About Department
The Discipline of Computer Science and Engineering (CSE) was set up in July 1997. It is one of the disciplines that offers Bachelor of Technology (B.Tech), Master of Technology (M.Tech.)programmes . The discipline adopts a modern approach to teaching wherein students are rendered in adequate academic freedom to innovate and learn in the process. Facilities, including the latest software and advanced hardware are available in various laboratories for use in both teaching and research. This facilitates adequate implementation of major projects.
The faculty members of the discipline are from diverse streams and specializations. Being a part of established institute, together with extremely competent research faculty, the Departments offers a unique interactive platform for the students to explore the arena of fundamental.
Vision of the Department
The department envisions nurturing students to become technologically proficient, research competent and socially accountable for the welfare of the society.
Mission of the Department
To provide high quality education through an effective teaching-learning process, emphasizing active participation of the students.
To build scientifically strong engineers to cater to the needs of industry, higher studies, research and startups.
To stir young minds, ingrained with professional and behavioral ethics for the betterment of the society.
Program Educational Objectives Statements
Our graduates will exhibit team-work and leadership qualities to meet stakeholders' business objectives in their careers.
Our graduates will employ capabilities of solving complex engineering problems to succeed in research and / or higher studies.
Our graduates will demonstrate application of comprehensive technical knowledge for innovation and entrepreneurship.
Our graduates will evolve in ethical and professional practices and enhance socio-economic contributions to the society.
Program Specific Outcomes
The ability to understand the principles of computer hardware and software to analyze, design and develop algorithms for complex and logical problems.
Enhance programming concepts and professional competencies of students by exercising principles of software engineering to fix various computational problems.
To implement emerging technologies such as internet of things, cloud computing, artificial intelligence, machine learning etc. to serve the society.
HoD Desk
I warmly welcome you to the Department of Computer Science & Engineering. We pride ourselves on providing pioneering visionaries of tomorrow, conducting cutting-edge research, and leading a wide range of initiatives that affirm the transformative power of computing and informatics.
The Department has well-qualified and experienced faculty which strengthens the students to become technologically proficient, research competent, and socially accountable for the welfare of society. The Department has high computing machines connected with a high-speed leased line.
High-quality academic programs provide a unique combination of teaching, research, and hands-on services which strengthen problem-solving skills, allowing students to expand their knowledge, work independently, think critically, and find new ways to apply science for the benefit of society.
Practical experience is offered to students and the opportunity to work first-hand in the state-of-the-art laboratory on research projects with local industry experts, collecting data and conducting research that leads to viable solutions for businesses.
We strive to improve business and society through educational leadership, research and development, intellectual partnerships, and outreach. Students work with Professors who are leaders in their respective disciplines, have access to state-of-the-art labs that offer a wide range of opportunities. This offers our students critical thinking skills & practical skills that are valued by reputed companies and academic institutions.
Bachelor of Technology (B.Tech),
Master of Technology programs (M.Tech)
Laboratories
Python lab, Networking Lab/ Cloud Computing, Operating System Lab, Data Structure & Algorithms Lab, DBMS Laboratory, Project Lab/ Computer Graphics, Software Engineering / JAVA Lab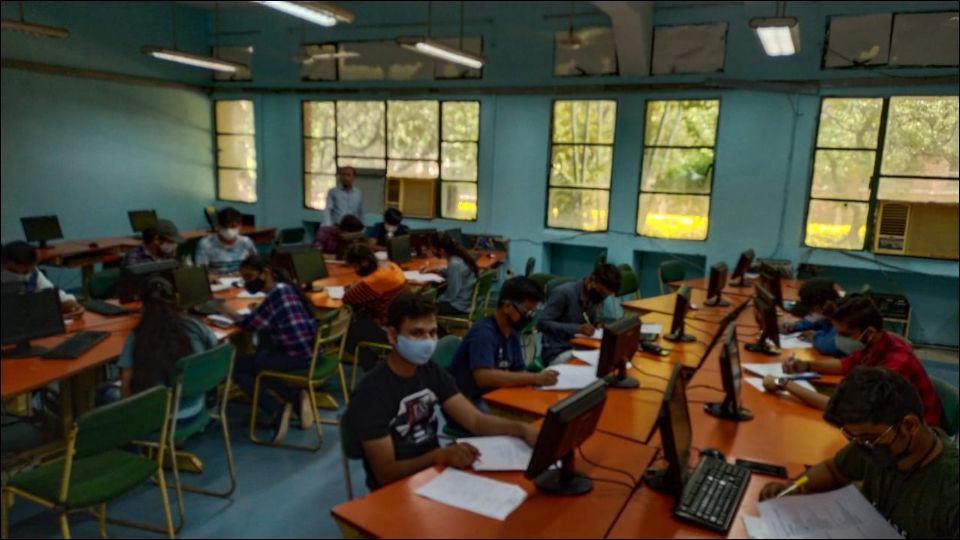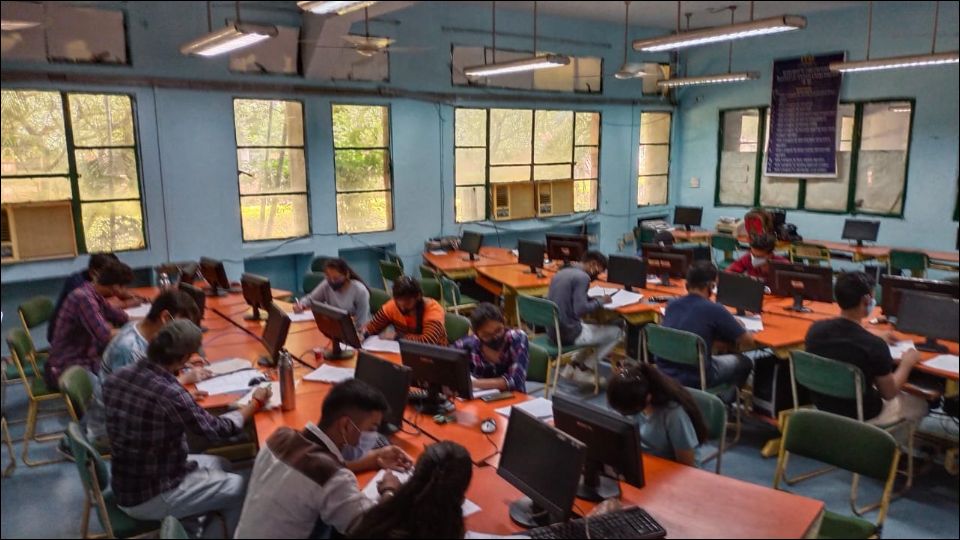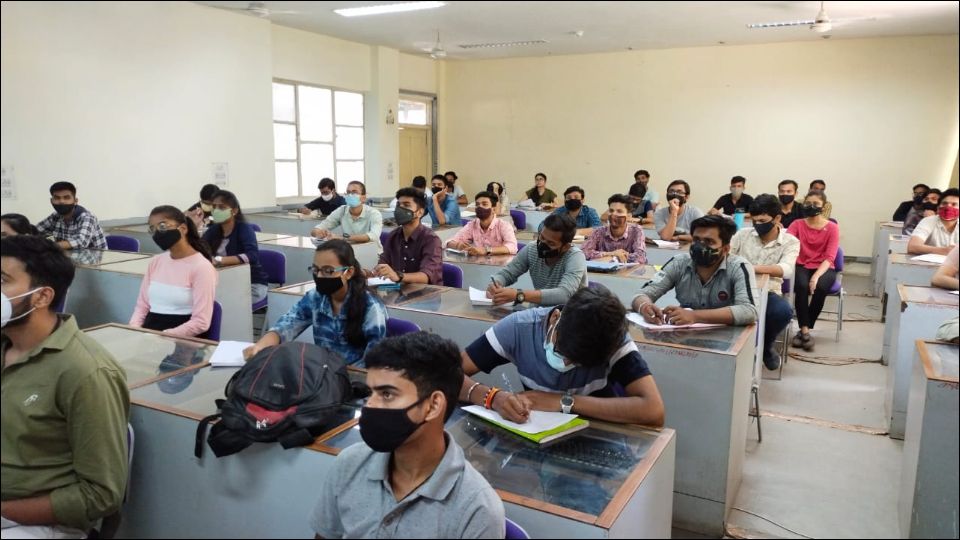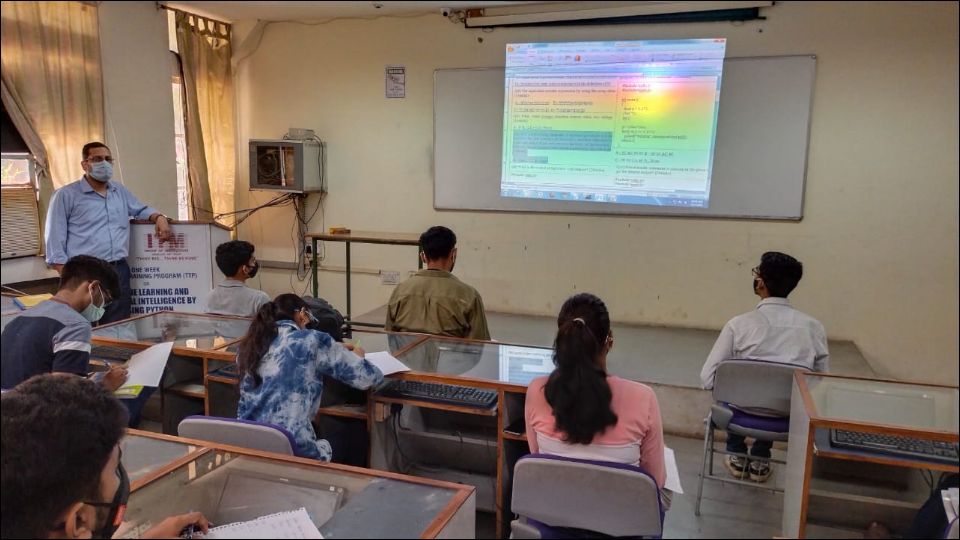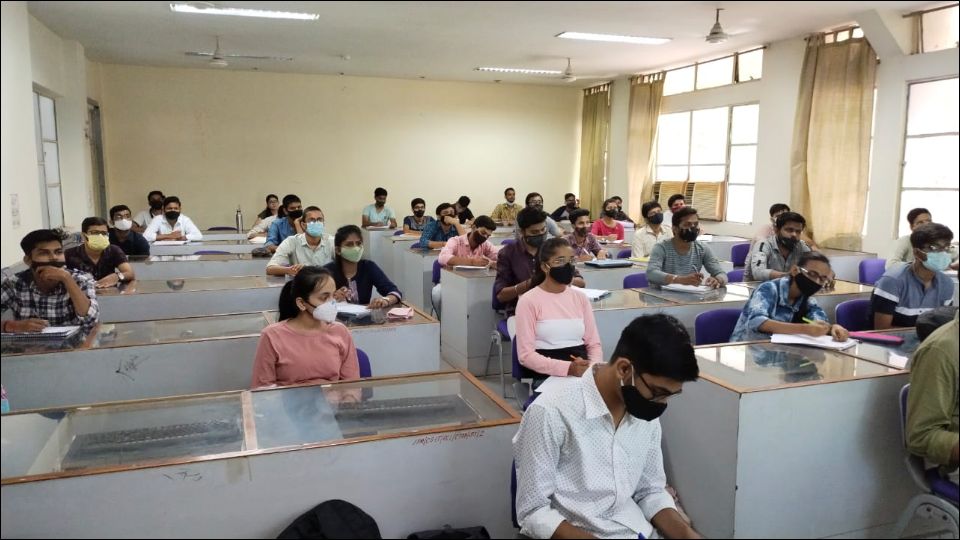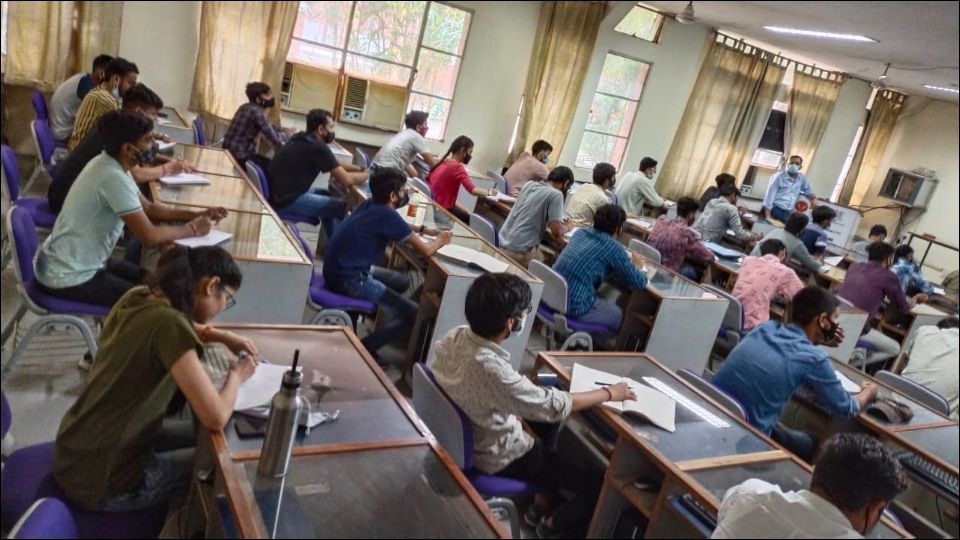 Innovations by the Faculty in Teaching and Learning
Teaching effectiveness can be brought by understanding the models of instructions that capture, delineate, and transfer the knowledge from faculty members to the learners. These involve a deep understanding of subject matter, planning, classroom instructional strategies, assessment of understanding of students, and analysis of learning outcomes.
Our methodologies are open for enhancement. Some of our Teaching-Learning Methodologies are Classroom Teaching, Tutorial Sessions particularly for analytical and programming subjects, Assignments, Snap Talk, Theory cum Laboratory classes, Experiments beyond Syllabus, Project-Based Learning, Value Aided Courses, Online courses, Technical Presentations, Weekend Activities, Industrial Visit, Industrial Trainings.
Classroom Teaching

The classrooms of the institute are equipped with chalk and talk along with PowerPoint presentation facilities. Classroom teaching enables the student to learn more dynamically, through different forms of information. All interactive modules such as videos and presentations are used in classrooms. This method of teaching attracts the students. Classes help students to connect concepts easily with animated visuals. The audio-visual senses of the students are targeted and it helps the students to grab the information effectively.

Theory cum laboratory courses

The demonstration method of laboratory courses combined with a well-guided discussion is a successful teaching technique. Practical sessions are designed in such a way that includes both theory and laboratory components. Theory cum laboratory curriculum ensures that students grasp concepts effectively through virtual laboratories.

Online courses

Faculty members and students attend online courses on Coursera, NPTEL, Spoken tutorial, in their area of interest. This helps them to enrich their knowledge on the current trends and also equip them with inter-domain expertise. They are certified by National and International universities and are motivated towards lifelong learning. Online courses also provide a forum for discussion among experts and students worldwide.

Learning Management System

Learning Management System (Tattva) is a platform designed to enhance the learning experience which is incorporated in our teaching-learning process. It helps to interact with students 24 X 7, by posting interactive video lectures, study materials, notes, quizzes, activity-based projects and assignments. It also facilitates to conduct and evaluate online quizzes. The tools offer opportunities for collaboration in real-time and the ability to work remotely.

Problem-based learning

Projects based on real-time engineering problems are offered which help students to understand and come out with the solutions. Group assignments are also given to the students to improve their self-learning and teamwork. Project Exhibitions are conducted in the department every year to enrich the project developing skills of the students.

Technical presentation

Students are encouraged to give presentations on any technical topics in their area of interest which serves the purpose of knowledge transfer and removes stage fear also. It improves their communication skills which are significant in their career growth.

Co-curricular and extracurricular activities

Co-curricular and extracurricular activities are conducted to encourage the students and to improve problem-solving capabilities, leadership abilities in multidisciplinary fields, co-operation in teamwork, realization in professional ethics, and administration during critical situations. These activities include webinars, aptitude training, social welfare camp, problem-solving activities, entrepreneurship development programs, critical thinking forums, group discussions.

Industrial Visit /Training/ Internship

Industrial visits and training are organized for students to bridge the gap between theoretical learning and practical training in a real-life environment. Students understand the industrial practices and organizational hierarchy during industrial visits. Industrial visits/internships provide opportunities for active/interactive learning experiences outside the classroom environment, in addition to the usual classroom learning.

Snap Talk

Students are motivated to present a topic based on classroom teaching for 5 minutes during class hours for improving technical knowledge.

Value Added Courses

Certification courses are conducted by the department to give key knowledge to the students in specific fields. It improves employability skills and stimulates the professional and life-oriented skills of the students.

Interactive Video

Interactive video content for online classes and Interactive H5P videos are accessible through Tattva-LMS of the institute. The objective of Interactive Videos is to make students feel the classroom teaching. They are provided MCQs, short answer-type questions, or questions based on a summarized session at the last. The interactive Teaching Methodology evokes curiosity among students which aid in self-evaluation. One more positive feedback towards the interactive approach is that students can also revise their lectures even when they missed a topic.

Online Lab Manuals

Lab manuals are prepared by expert faculty of the course and are made available on LMS Tattva/labs for students. Apart from theory lectures, the assignments, quizzes, & recorded lab sessions provide students with a conceptual understanding of lab experiments. Students complete practice questions also by using Lab manuals for every lab-related course.

Online Grades Evaluation

Brainstorming assignment questions and quizzes are provided and evaluated through LMS Tattva. This process is transparent and students can also monitor their performance.
Teaching Methodologies
HOD's Desk
Welcome to the department of Computer Science and Engineering. We at department of CSE believe that learning is a continuous process and does not end with the acquisition of a degree, especially because steady and rapid advances in computing technologies shorten the life of tools and techniques prevalent today. Therefore we do not aim to make our students walking manuals of any language or package. Instead, they are given a strong foundation in computer science and problem-solving techniques, and are made adaptable to changes.
We aim at offering the best quality education. Our faculty members are involved in interdisciplinary research efforts. We believe that this approach to teaching-learning, coupled with practical experience gained during Industrial Training and Practice School Project work in reputed organizations, equips our students to handle the challenges posed by the IT industry.
I am confident that you will find our students worthy of any organization. I ardently admire the Faculty and supportive staff who have worked in an exemplary team spirit to enable the department to grow from strength to strength and hope they will continue with the same zeal in future as well.
Our Mission and Goal : We, at Department of CSE, are absolutely committed to serve the society and improve the mode of life by imparting high quality education in the field of Engineering and Management catering to the explicit and implicit needs of the students, society, humanity and industry.
Our goal is to continuously improve the healthy learning environment and facilities being provided to the students to achieve academic excellence for employability as world class Technocrats and Managers, apart from making them noble human beings of a nation growing from strength to strength, dispelling the darkness of ignorance.
Chairman

Dr. Rishi Soni, Head Computer Science & Engineering (CSE), ITM Gwalior, (M. P.)

Member (Academics)

Dr. Vrijendra Singh Professor (CSE), Indian Institute Of Information Technology, Allahabad, (U.P.)

Dr. M. P. SinghProfessor (CSE), Dr. B. A. University, Agra, (U. P.)

Dr. Jitendra SinghKushwahAssociate Professor, ITM, Gwalior, (M. P.)

Dr. Pradeep YadavAssociate Professor, ITM, Gwalior, (M.P.)

Member (Industry)

Mr. Pankaj Gupta, CEO, Reflex Solution

Member (Alumni)

Mr. Nitin Jain, Sr. Software Engg, Motorola Solutions (MSI), Bangalore

Mob No.: 9902764035, BATCH: 2007-08

Mr. Rahul Agrawal, Chief Engineer, Samsung Research Institute Noida, Mob No.: 9871654422, BATCH:2009-10

Mr.UtkarshShrivastav, MD, AWE Spiring Design, Pvt Ltd, Delhi,

Mobile No.: 8989131959, BATCH: 2016-17

Mr. Siddharth Gupta, Software engineer QA, AIT Global India PvtLtd, PUNE, Mobile No.: 9907545897, BATCH: 2017-18

Member

(student Representative)

Mr. Utkarsh Singh Chauhan (B. Tech. CSE IV YEAR) (Academic Year 2021-22)

Ms. Bahar Grover (B. Tech CSE IV YEAR) ( Academic Year 2021-22)
| S.No. | Department | Name of the Faculty Member | Qualification | Designation | Joining Date | Nature of Accociation (Regular/Contract/Adjunct) |
| --- | --- | --- | --- | --- | --- | --- |
| 1. | CSE | Dr.Rishi Soni | Ph.D | Professor | 02-07-18 | Regular |
| 2. | CSE | Dr.Jitendra Singh Kushwah | Ph.D | Associate Professor | 10-07-09 | Regular |
| 3. | CSE | Dr.Pradeep Yadav | Ph.D | Associate Professor | 21-08-07 | Regular |
| 4. | CSE | Mrs.Rakhi Sunny Arora | M.Tech | Asst.Professor | 15-02-10 | Regular |
| 5. | CSE | Mrs.Reena Chauhan | M.Tech | Asst. Professor | 07-08-18 | Regular |
| 6. | CSE | Mrs.Neelam Joshi | M.Tech | Asst. Professor | 03-08-18 | Regular |
| 7. | CSE | Mr.Ravi Parashar | M.Tech | Asst. Professor | 15-07-20 | Regular |
| 8. | CSE | Mr.Deshdeepak Shrivastava | M.Tech | Asst. Professor | 21-08-07 | Regular |
| 9. | CSE | Ms.Aruna Bajpai | M.Tech | Asst. Professor | 04-08-08 | Regular |
| 10. | CSE | Mrs.Archana Tomar | M.Tech | Asst. Professor | 04-08-08 | Regular |
| 11. | CSE | Mr.Chandra Prakash Bhargava | M.Tech | Asst. Professor | 30-01-08 | Regular |
| 12. | CSE | Mr.Kuldeep Singh Jadon | M.Tech | Asst. Professor | 18-09-09 | Visiting |
| 13. | CSE | Mr.Manuj Mishra | M.Tech | Asst. Professor | 16-07-12 | Visiting |
| 14. | CSE | Mr.Gaurav Dubey | M.Tech | Asst. Professor | 23-07-07 | Regular |
| 15. | CSE | Mr.Nitin Dixit | M.Tech | Asst. Professor | 23-08-11 | Regular |
| 16. | CSE | Mr.Shivam Kaushal | M.Tech | Asst. Professor | 26-12-16 | Regular |
| 17. | CSE | Ms.Sapna Kushwah | M.Tech | Asst. Professor | 15-07-20 | Regular |
| 18. | CSE | Mr.Mayank Kurchaniya | M.Tech | Asst. Professor | 05-07-14 | Regular |
| 19. | CSE | Mr.Khemchand Shakywar | M.Tech | Asst. Professor | 23-03-20 | Regular |
| 20. | CSE | Mrs.Priusha Narwariya | M.Tech | Asst.Professor | 20-09-05 | Regular |
| 21. | CSE | Mr.Arpit Kushwah | M.Tech | Asst. Professor | 01-07-20 | Regular |
| 22. | CSE | Ms.Jhankar Moolchandani | M.Tech | Asst. Professor | 01-07-20 | Regular |
| 23. | CSE | Ms.Neha Saxena | M.Tech | Asst.Professor | 01-07-20 | Regular |
| 24. | CSE | Mr.Praveen kumar mudgal | M.Tech | Asst. Professor | 01-07-20 | Regular |
| 25. | CSE | Mr.Arun Agrawal | M.Tech | Asst. Professor | 30-06-07 | Regular |
| 26. | CSE | Dr.Ashwini Kumar Shrivas | Ph.D | Professor | 12-04-21 | Regular |
| 27. | CSE | Dr.Deepak Gupta | Ph.D | Associate Professor | 10-05-21 | Regular |
| 28. | CSE | Ms.Iti Jain | M.Tech | Asst. Professor | 12-04-21 | Regular |
| 29. | CSE | Mr.Chandan Mukherjee | M.Tech | Asst. Professor | 21-04-21 | Visiting |
| 30. | CSE | Mr.Sujeet Singh Bhadouria | M.Tech | Asst. Professor | 17-03-21 | Regular |
Product/Project Development
The details of the Product/Project development by the students under the supervision/guidance of faculty members.
Energy Efficient Building

Product/Project

Team Members

Development Under

Under the Guidance

Energy Efficient Buildings

1. Abhay Singh Bhadouria(CSE)

2. Aparna Tiwari(CSE)

3. Aman Sharma(CSE)

4. Manav Gupta(ME)

5. Deeksha Rajput(CSE)

6. Sanjay Kushwah(ME)

Smart India Hackathon, 2019 Hardware Edition organized by MHRD, Govt. of India
Mr. Kuldeep Singh Jadon Ms. ArunaBajpai
INTRODUCTION OF THE PROJECT:
Globally the building sector accounts for more electricity use than any other sector i.e., 42%. No wonder considering that we spend more than 90 percent of our time in buildings. With increasing urbanization, higher in developing countries, the number and size of buildings in urban areas will increase, resulting in an increased demand for electricity and other forms of energy commonly used in buildings.
Buildings consume more energy than transport and industry. The International Energy Agency (IEA) statistics estimate that globally, the building Sector is responsible for more electricity consumption than any other sector i.e., 42 percent.
Buildings are responsible for one-third of India's total energy consumption according to the IEA. Two-thirds of the buildings that will exist in India by 2030 are yet to be built. Buildings are responsible for one-third of India's total energy consumption by the year 2030, Energy demand is estimated to increase 35 percent thus creating greater demand for solutions that reduce energy consumption.
Why is Energy Efficiency in Buildings Important?
Governments have a responsibility to ensure that there is a secure supply of energy to ensure economic growth. In many developing countries there is normally very little margin between existing power supply and electricity demand. With increasing electricity use from existing consumers and new connections, a new generation needs to be brought online to meet increasing demand. In addition, due to changing climate patterns and the increasing risk of drought, countries that are highly dependent on electricity from hydro as their main source of electricity are losing much of their generation capacity resulting in intensive power rationing. Although renewable sources of electricity such as hydro, geothermal, or wind provide electricity at a much lower cost than electricity generation from petroleum, their capital outlay is large, they are complex and take much longer to implement. Petroleum-based generation is usually brought in in the short term to meet this demand, which results in increased cost of electricity, over-dependence on petroleum, and subsequently vulnerability to oil price fluctuations.
Energy Efficiency Measures For Buildings
Energy efficiency measures for buildings are approaches through which the energy consumption of a building can be reduced while maintaining or improving the level of comfort in the building. They can typically be categorized into:
Reducing heating demand;
Reducing cooling demand;
Reducing the energy requirements for ventilation;
Reducing energy use for lighting;
Reducing energy used for heating water;
Reducing electricity consumption of home equipment and appliances;
Good housekeeping and people solutions
KEY POINTS:
Ø The building sector is an important contributor to any country's total energy consumption. Globally, the building sector is responsible for more electricity usage than any other sector- 42 percent. While building sector energy consumption is generally greater in developed countries than in developing countries, it is still an issue (and a growing issue) for developing countries, particularly for those with restricted generating capacity.
Ø While the building sector is a major energy consumer, including residential, commercial, and industrial buildings, very considerable energy savings are possible with many being achievable at a relatively low cost.
Ø There are much different energy flows within any given building- into and out of the building. Methodologies are available to measure a building's energy performance.
Data Visualization website using python, Machine Learning

Product/Project

Team Members

Development Under

Under the Guidance

Data Visualization website using python, Machine Learning

1. Dhruv Gupta

2. KritikaRupauliha

3. Parul Jain

Center of Excellence Lab, ITM Gwalior
Mr. Naval Kishore Lodhi Ms. Rakhi Arora
Product/Project

Team Members

Development Under

Under the Guidance

ADHVIK 1.0

AmanKaurav, CSE

Akash Dixit, EC

AkshataSarwate, EC

Aleena Anna Seji, EC

AmanOjha, EC

Ayush Bansal, EC

Akansha, EC

Pranav, EC

Sagar, EC

Vaivabhi, EC

Yash, EC

Makers Lab, ITM Gwalior
Mr. R.K Rajoriya Mr. Arun Agarwal
Makers Lab is a lab that works on your Passion. We are an effective team of ITM GOI GWALIOR, Makers lab is stabilized on 15-NOV-2016 and is guided by ANURAG MONDAL Sir & founded by the AKASH DIXIT. It is comprised of a team of 25 students which is from 1st to 4 th -year students of every branch. The lab is funded by the management team of the college. The lab is for students who want to innovate something new. We cover different research areas which are nowadays very helpful for an engineer to learn. We work on ROBOTICS we designed every type of robot-like a Line follower robot, an android control robot, Obstacle avoider we work on the following stuff also like ARDUINO, RASPBERRY PI, IOT(INTERNET OF THINGS), ANRDIOD, LINUX and many more.
For decades, humans have imagined, even come to expect, life-size humanoid robots in their future. The sober truth is that such robots are extraordinarily complex mechanically, the intelligence to reliably bring them to life is still outside our grasp, and the cost of building such thinking machines is prohibitively expensive. The technical communities of the internet have been growing, the Makers Lab has been rapidly expanding, the price of high-tech hardware needed for such sophisticated machines has been rapidly falling, and technologies like 3D printing have moved towards the mainstream. All of this has created something of a perfect storm for a new kind of crowd-sourced robotic development. So one of the most exciting projects currently our makers are designing a HUMANOID named (ADHVIK 1.0) which is a fully 3D printed humanoid. The ADHIVIK 1.0 is full voice control and gesture control robot is can recognize the gesture moments, it can visualize 3D objects, listen to your voice, it can see you and it can perform the desired task given by you. We are using many electronics components in this like servo motor, Arduino, raspberry pi, camera, sensors,3D printing technology also. Till now we have completed our robot hand which is voice and gesture control. Our Makers Lab members also focus on home automation using IOT and all members are currently doing some projects which is helping them to learn a lot about the future of the world.
Multipurpose Adjustable Cane

Product/Project

Team Members

Development Under

Under the Guidance

Multipurpose Adjustable Cane

1. Deepali Sharma, CSE

2. Ashutosh Pandey

3. Jatin Gulati

4. YamanSahu

5. Anshika Arora

Smart India Hackathon-2019 Hardware Edition organized by MHRD Govt. of India

Mr. Nitin Dixit

Mr. R.K Rajoria

Ms. Neelam Baghel




Our team took part in the Smart India Hackathon, 2019 Hardware Edition organized by MHRD, Govt. of India, and became the first runner-up of the competition.
The idea of the multipurpose adjustable cane is to serve as an aid to people suffering from osteoarthritis, rheumatoid arthritis, and other lower limb-related problems. The cane can help old age people in sitting, standing, walking, and climbing the stairs, and so on. According to a survey, 90% of old age people die due to falling sideways and the cane will help to reduce the possibility.
The SIH was a four-day competition that consisted of building and reviewing the prototype and reducing the small flaws from the design which could be done with the help of a Design Mentor. On the first day, the idea of the prototype, its purpose, and design was discussed and the second day was utilized reviewing and building it. In between all this, timely presentations were given to the Jury members on what was the idea and how are we converting it into reality. On the third day, the prototype was completed and the business plan was discussed with the jury members and on the final day, the grand finale, the final presentation was given with the business plan.
It was the best experience we had and we learned the teamwork power and practical skills that were very beneficial
TWO DAYS WORKSHOP ON ENTREPREURSHIP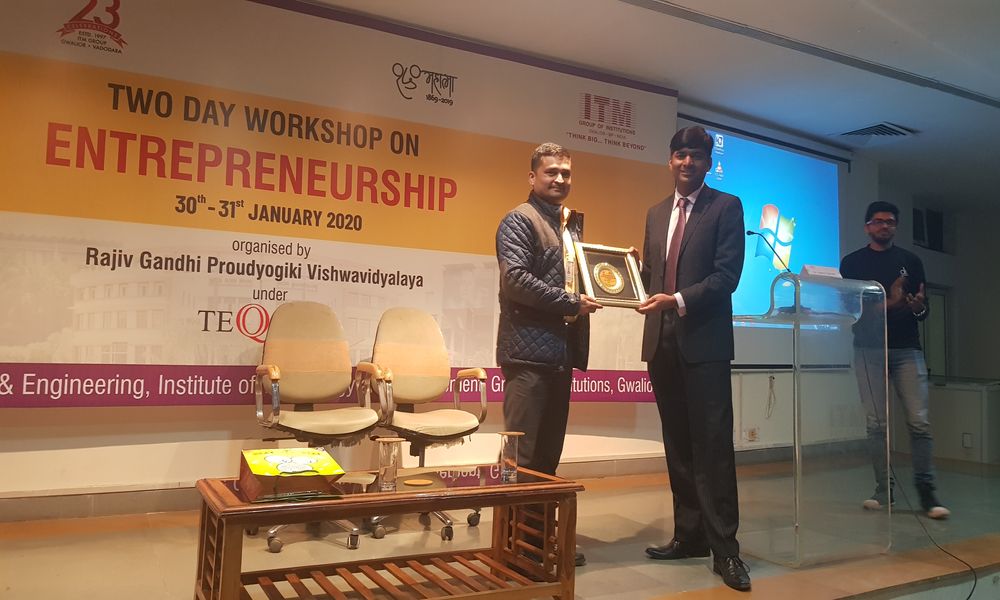 TWO DAYS WORKSHOP ON DJANGO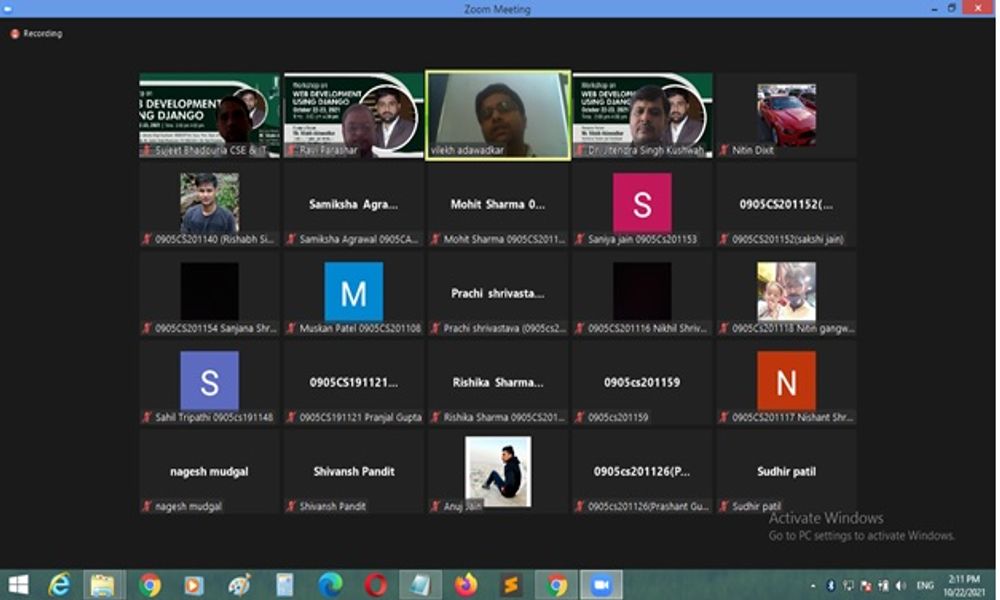 ONE WEEK WORKSHOP ON IOT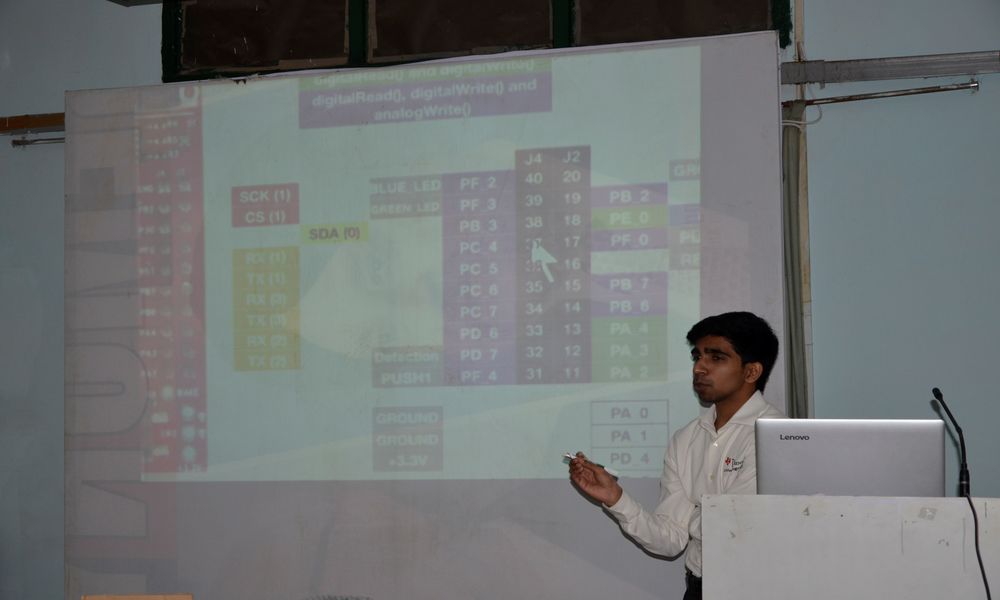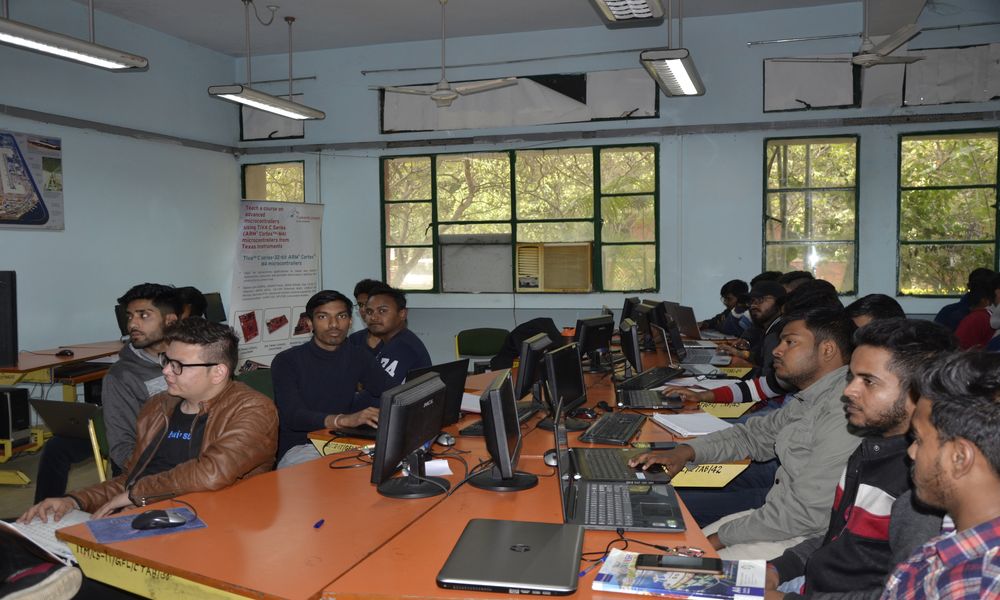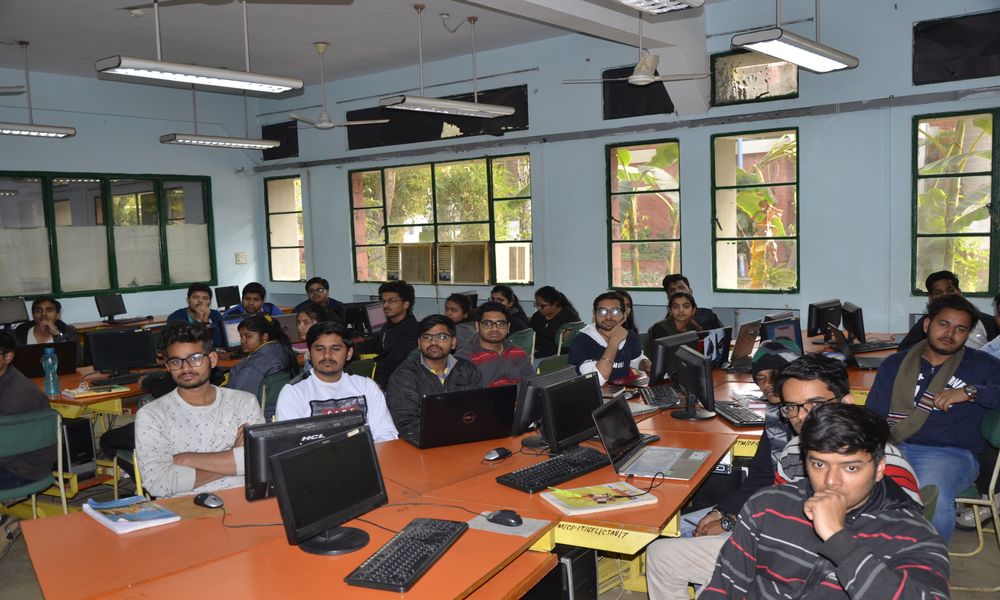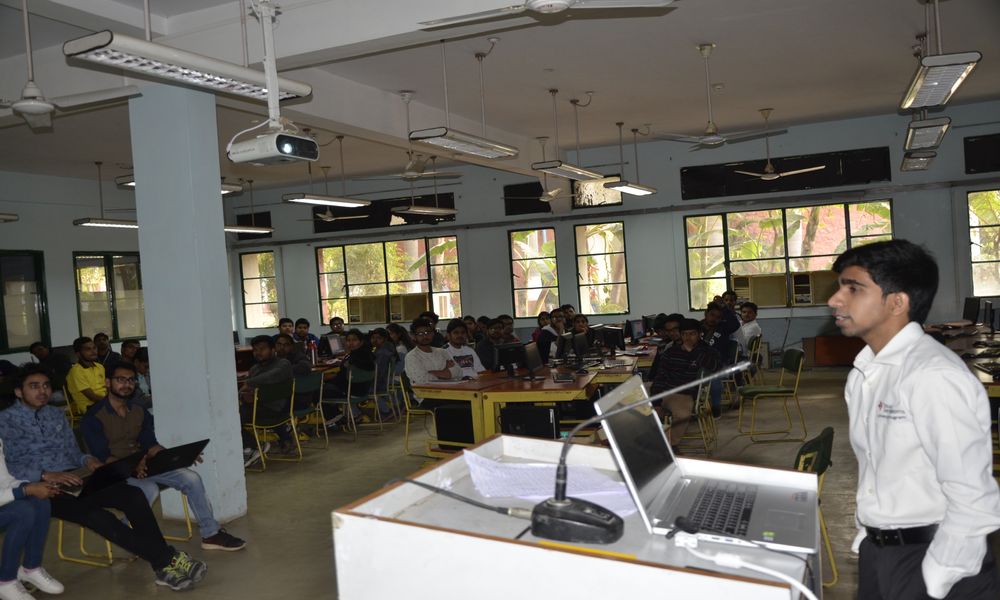 ONE DAY WORKSHOP ON VIRTUAL LAB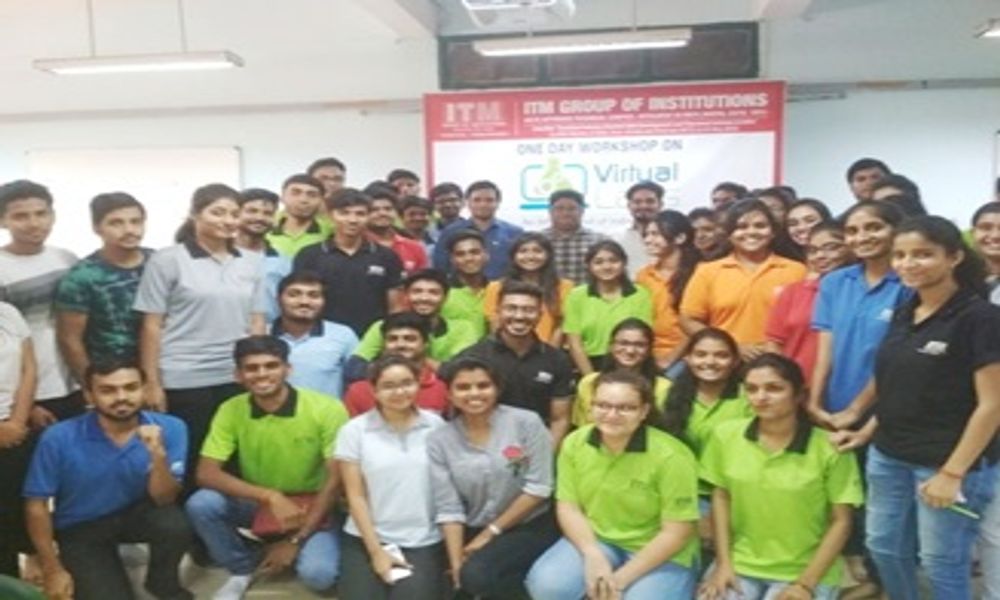 ONE DAY WEBINAR ON EXPLORING DATA ANALYTICS AND MACHINE LEARNING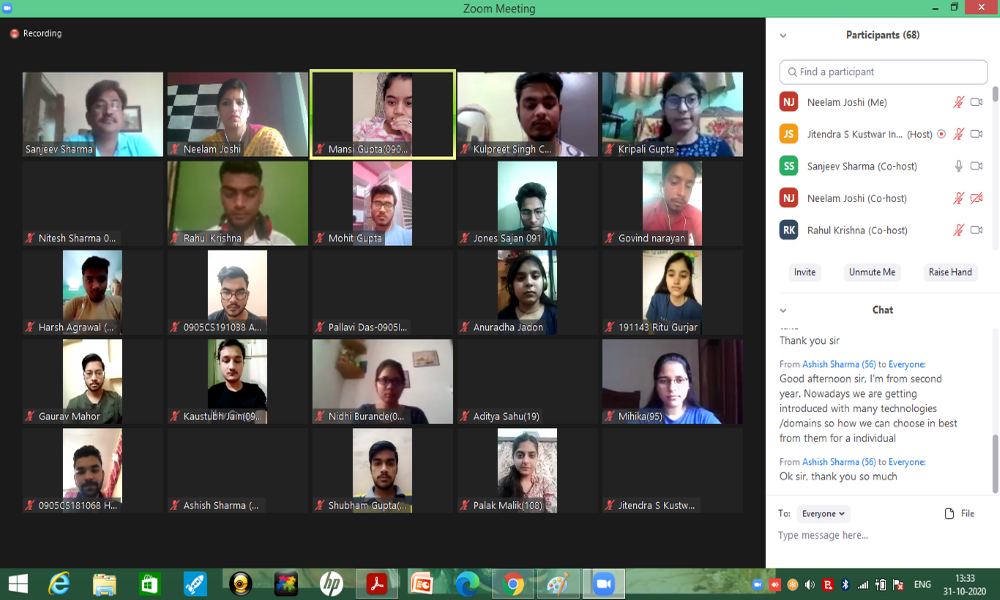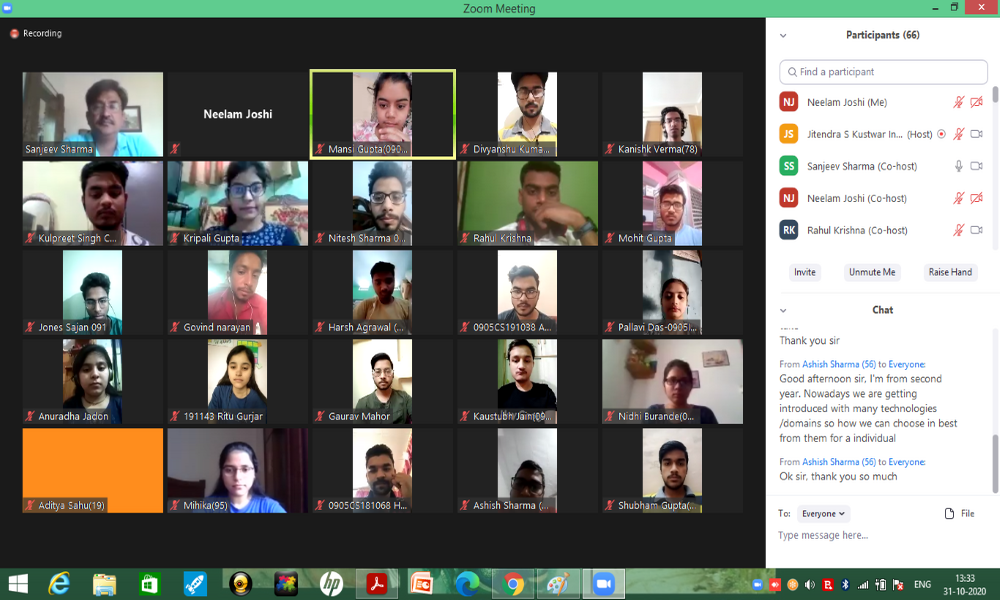 ONE DAY FDP ON MS-EXCEL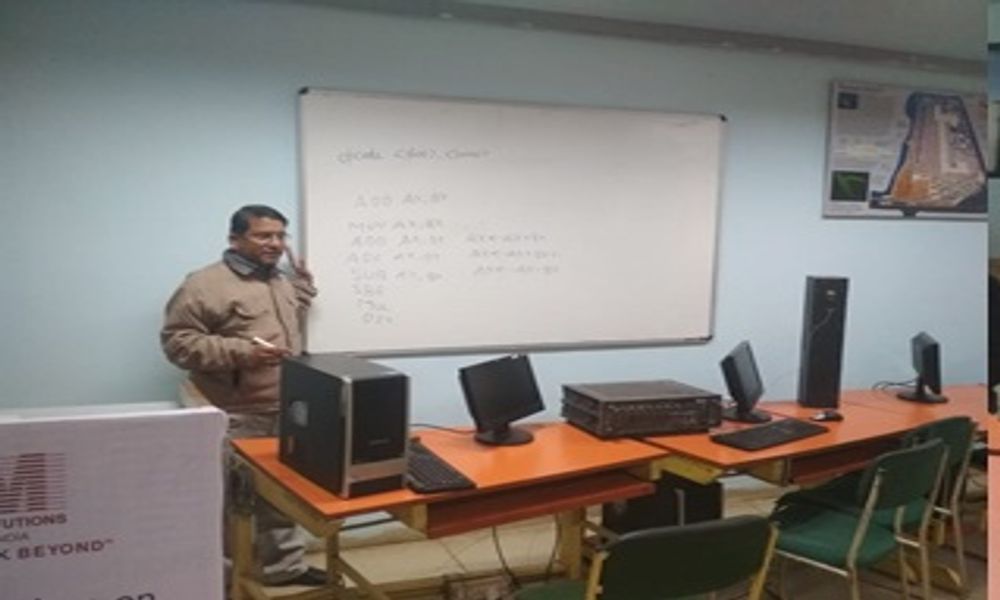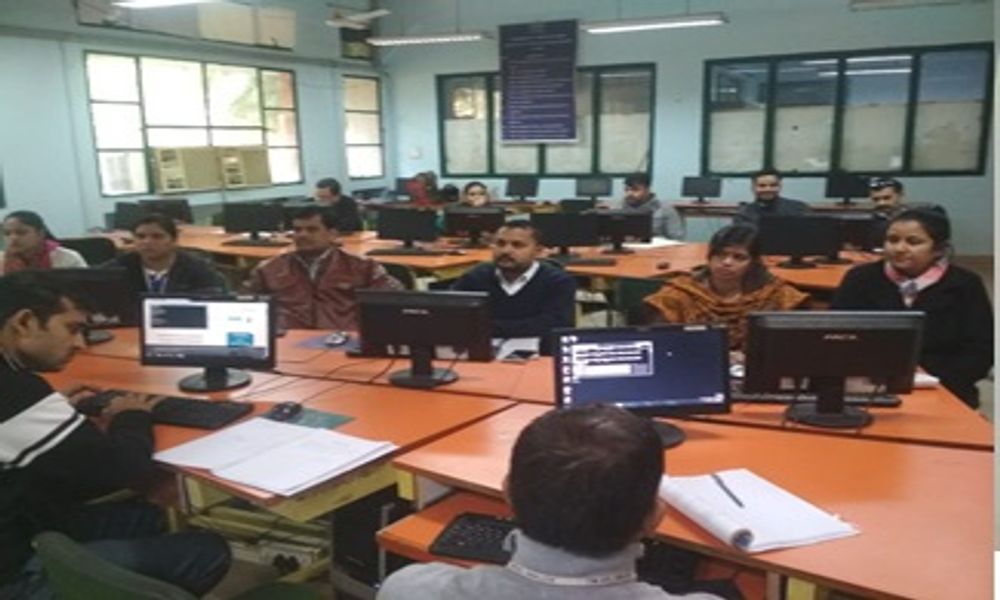 ONE DAY EXPERT LECTURE ON HTML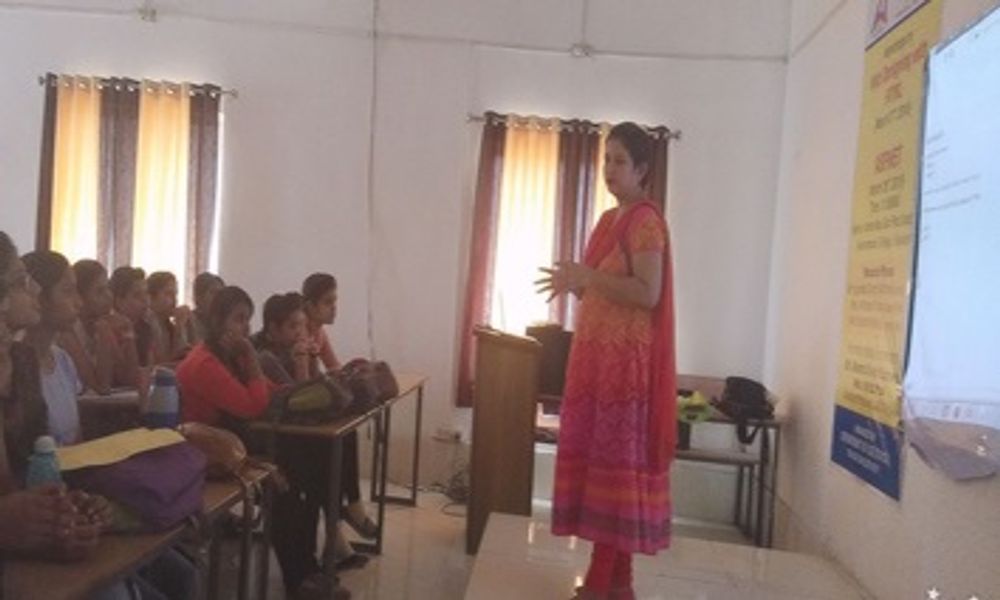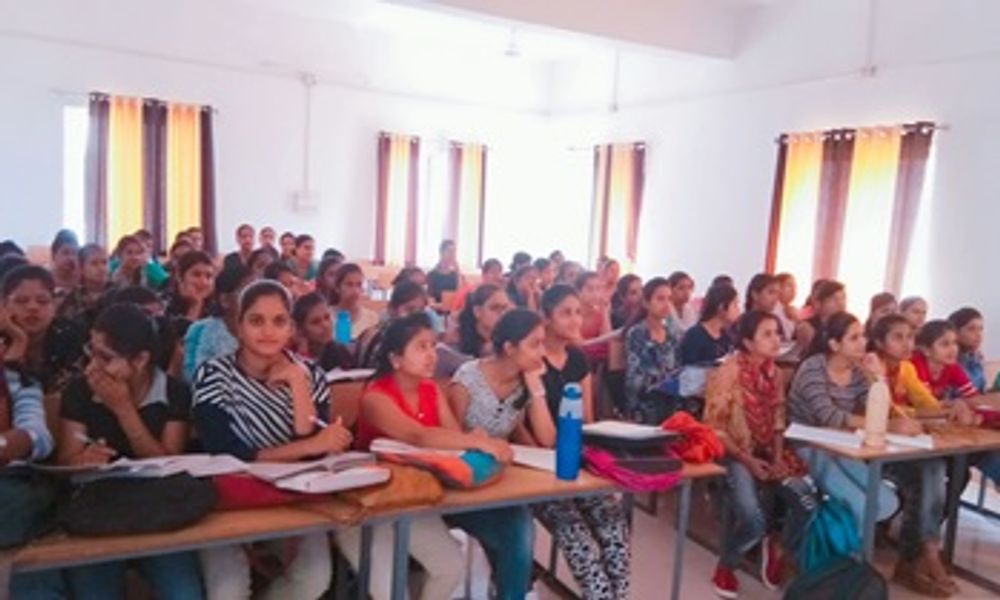 ONE DAY EXPERT LECTURE ON DBMS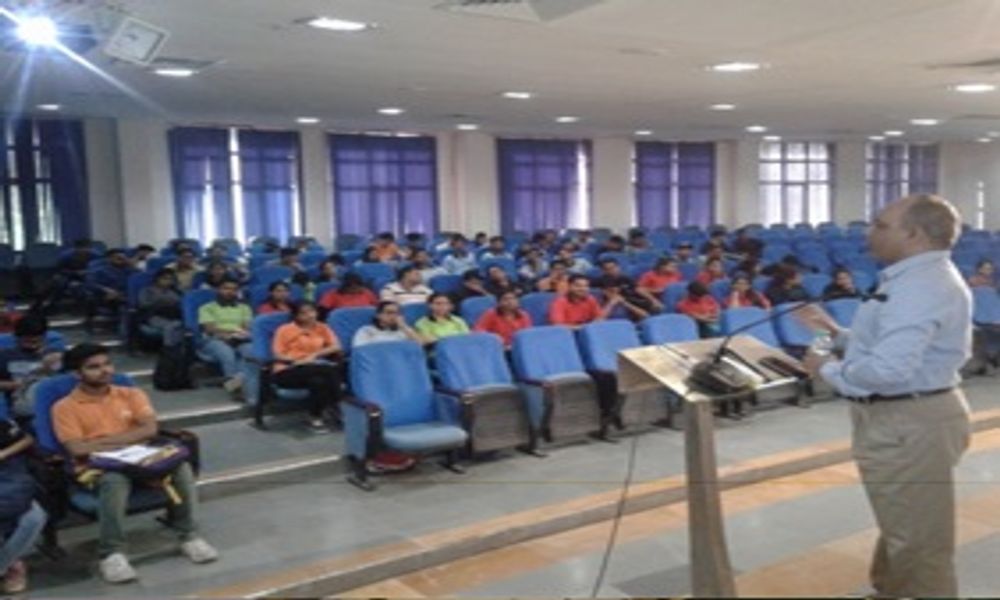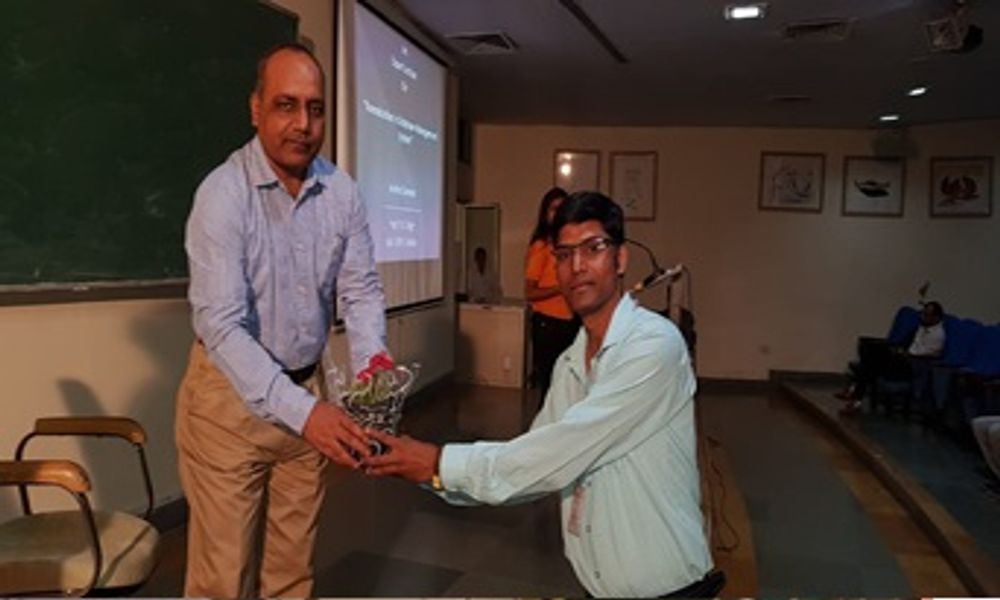 FOUR DAYS FDP ON PYTHON & DATA ANALYTICS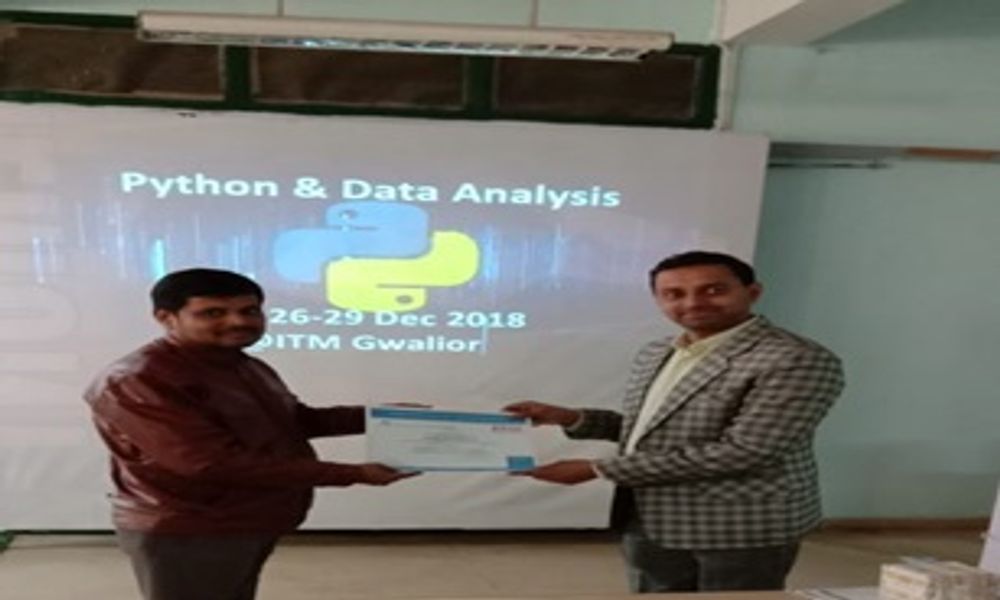 FIVE DAYS FDP ON ML AND AI USING PYTHON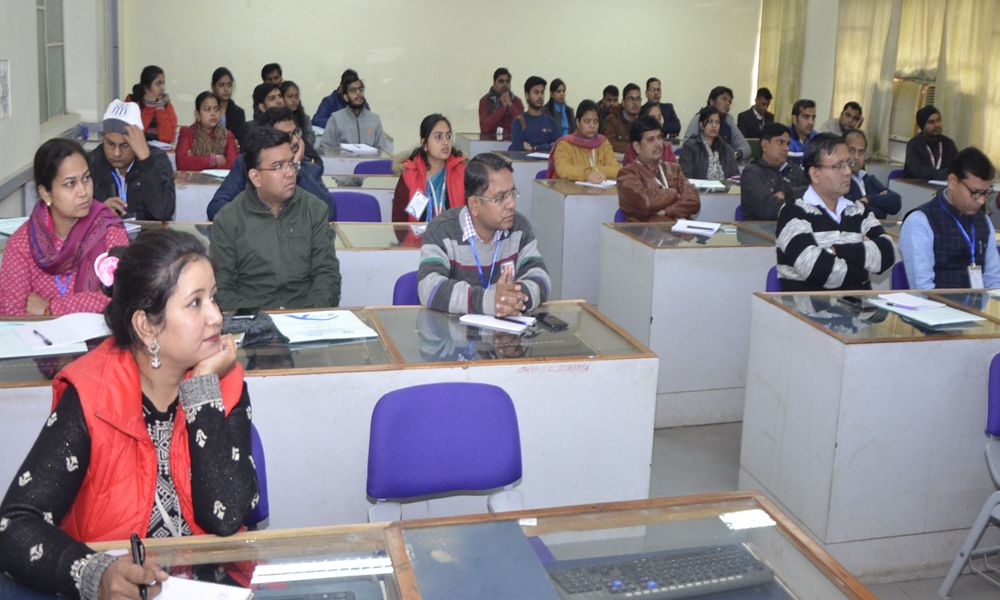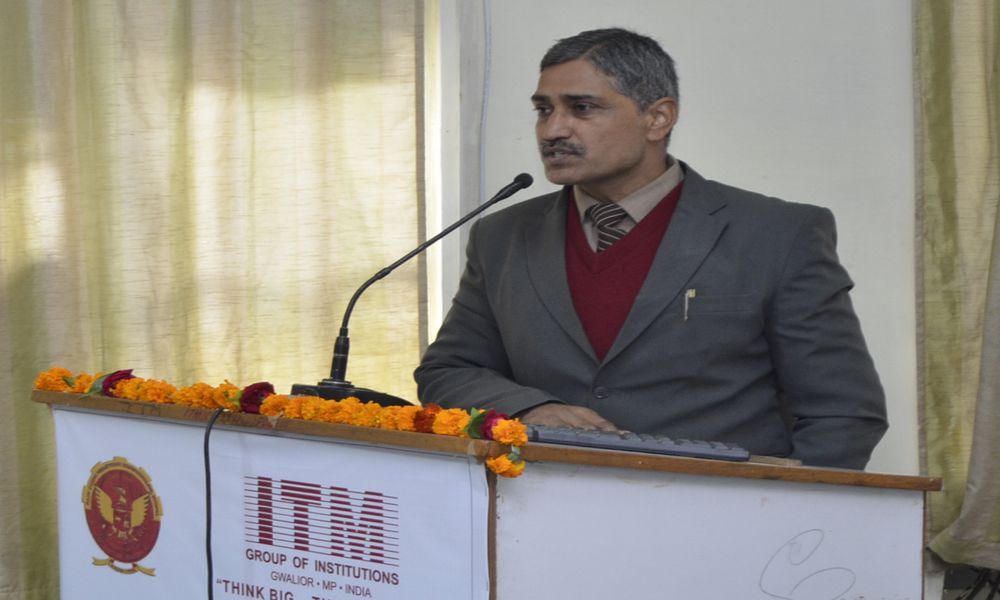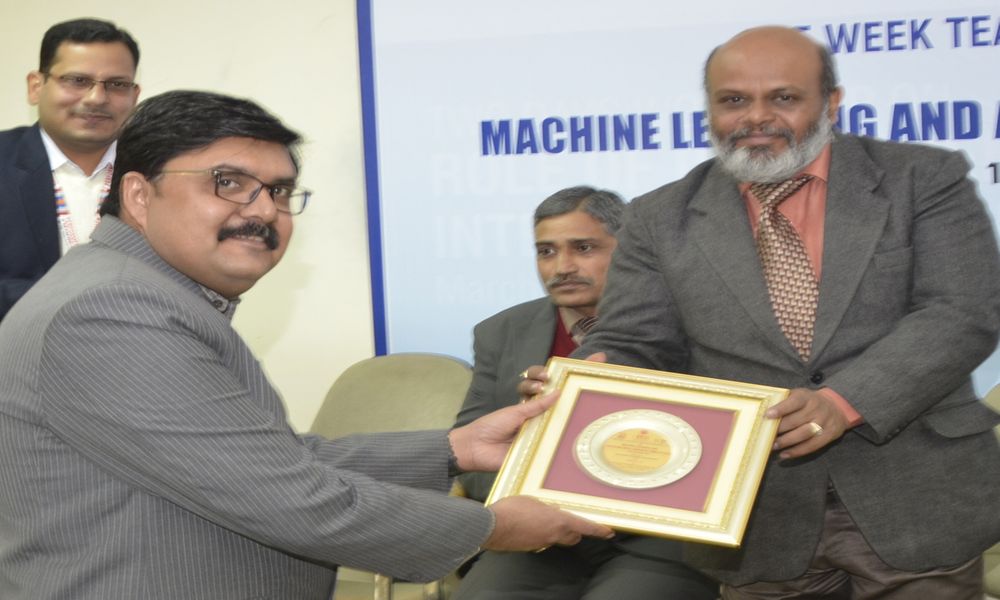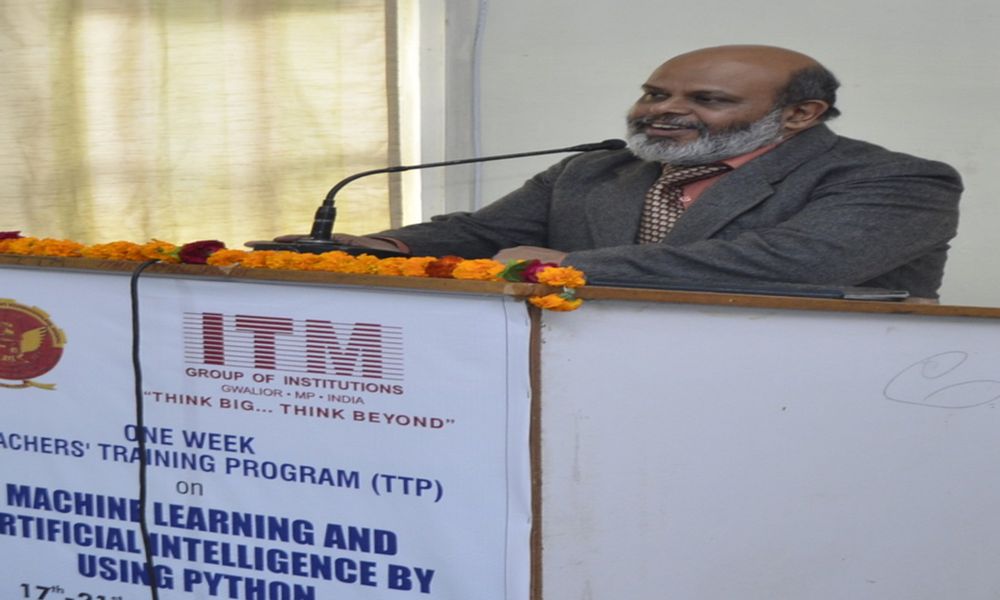 EXPERT TALK ON MAC LAYER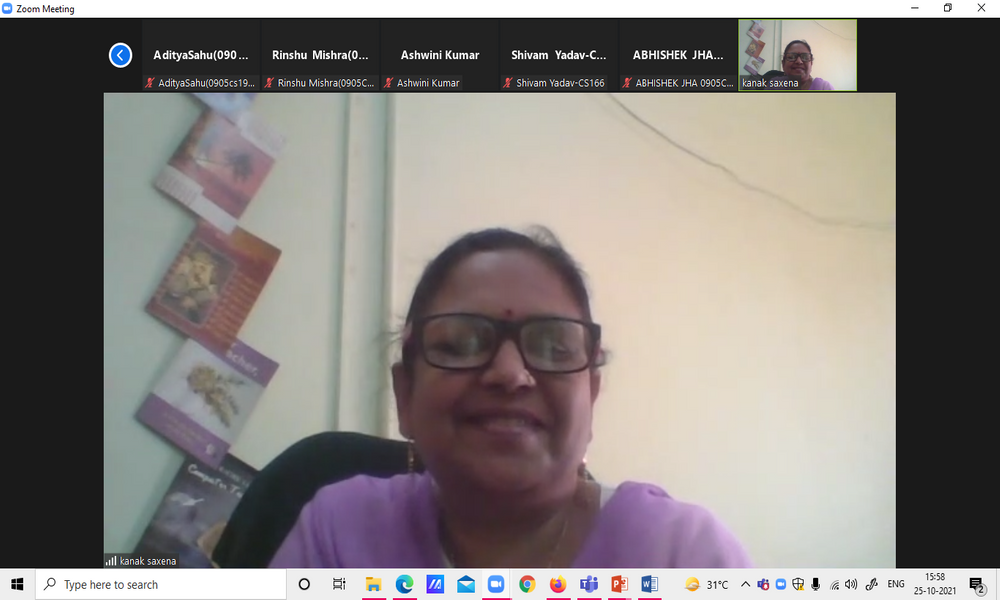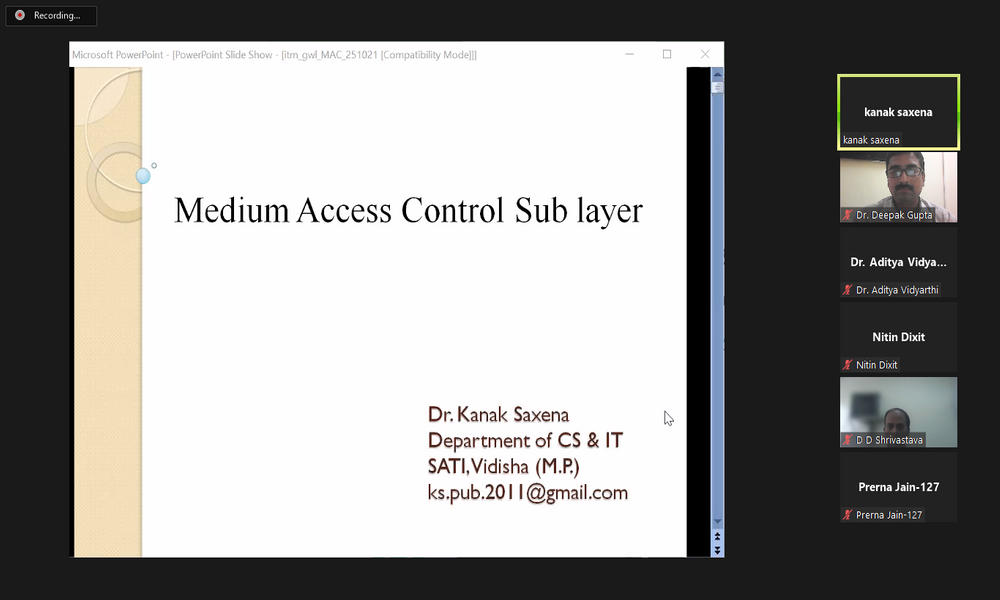 FIVE DAYS ATAL FDP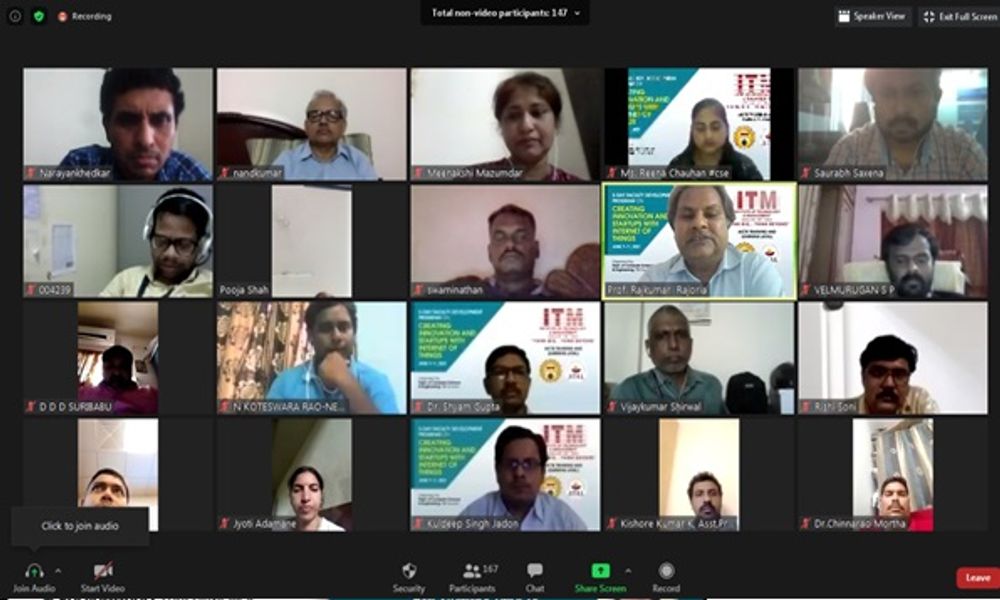 EXPERT LECTURE ON AI AND ROBOTICS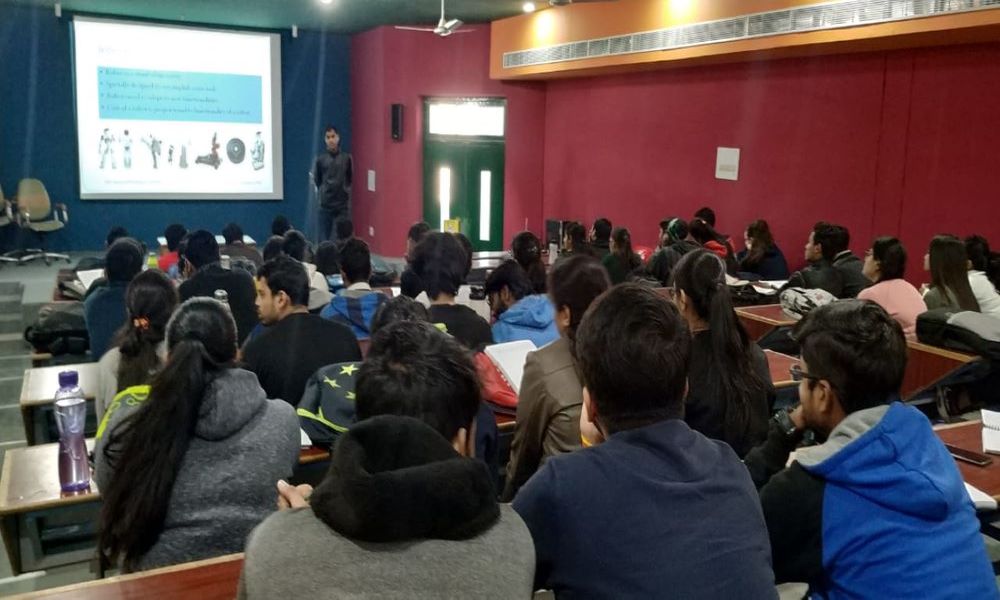 CENTER OF EXCELLENCE INAUGRATION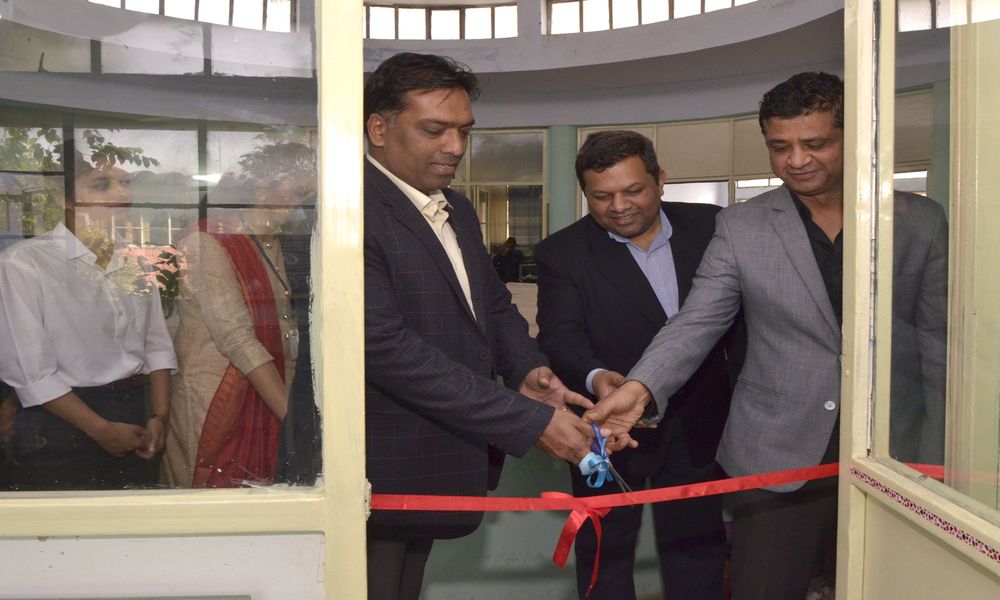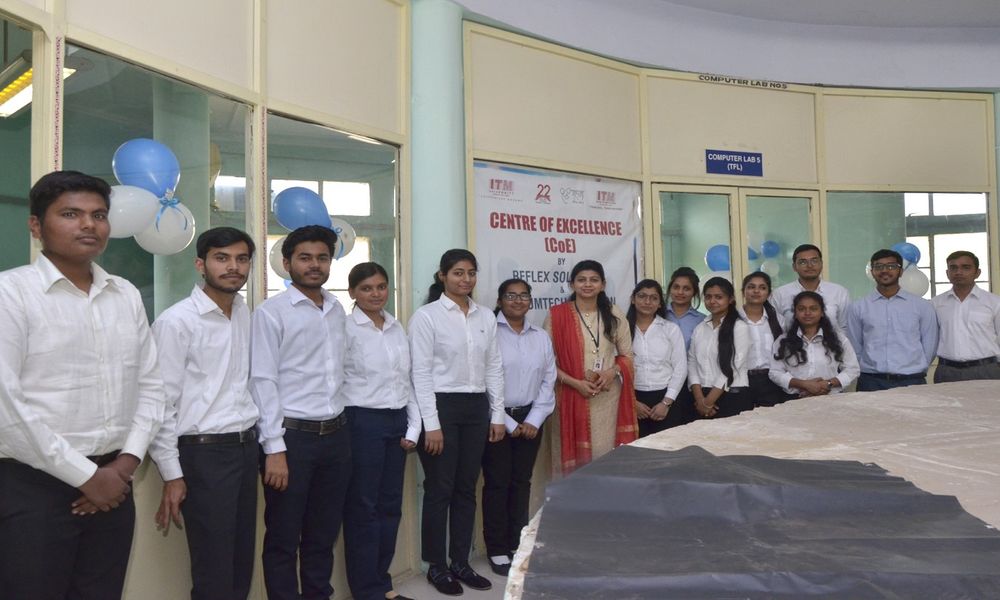 Details of Faculty members those who were Attended FDP/STTP:
S. No.

Name of Faculty

Nature of the program

Topic

Organized By

Days & Duration

Approved By

1.

Ms. Aruna Bajpai

STTP

Applied Computing

MITS, Gwalior

21-25 June 2021

AICTE

2.

Ms. Neelam Joshi

FDP

Artificial Intelligence

Model Engineering College

22-26 Feb, 2021

ATAL Academy Faculty Development Programme

3.

Ms. Aruna Bajpai

FDP

Cyber Security

St. Agnes College

08-12 February 2021

ATAL Academy Faculty Development Programme

4.

Ms. Archana Tomar

FDP

Artificial Intelligence

Ramakrishna Mission Vivekanand Education and Research Institute

01-05 February 2021

ATAL Academy Faculty Development Programme

5.

Ms. Aruna Bajpai

FDP

Data Science

KLEDR M. S. Sheshgiri College of Engineering & Technology, Belagavi

01-05 February 2021

ATAL Academy Faculty Development Programme

6.

Mr. C. P. Bhargava

FDP

Data Sciences

KLE DR. M. S. Sheshgiri College of Engineering & Technology Belagavi)

01-05 February 2021

ATAL Academy Faculty Development Programme

7.

Mr. D. D. Shrivastava

FDP

Data Sciences

KLE DR. M. S. Sheshgiri College of Engineering & Technology Belagavi)

01-05 February 2021

ATAL Academy Faculty Development Programme

8.

Ms. Archana Tomar

FDP

Big Data Analytics

Siddharth Institute of Engineering & Technology

25-29 January 2021

ATAL Academy Faculty Development Programme

9.

Mr. D. D. Shrivastava

FDP

Internet of Things (IoT)

SIKSHA O ANUSANDHAN.

21-25 January 2021

ATAL Academy Faculty Development Programme

10.

Mr. C. P. Bhargava

FDP

Internet of Things (IoT)

SIKSHA O ANUSANDHAN.

21-25 January 2021

ATAL Academy Faculty Development Programme

11.

Ms. Archana Tomar

FDP

Data Science

SAINTGITS College of Engineering

18-22 January 2021

ATAL Academy Faculty Development Programme

12.

Ms. Neelam Joshi

NPTEL

Computer Network & Internet Protocols

NPTEL

Jan-Jun 2021

NPTEL

13.

Ms. Archana Tomar

Recent Trends in Cloud Computing

DRIEMS Autonomous Engineering College

07-12 Dec, 2020

AICTE

14.

Ms. Neelam Joshi

Faculty Development Programme

Artificial Intelligence

IIIT, Naya Raipur

21-25 Nov, 2020

AICTE

15.

Ms. Reena Chauhan

Short Term Training Programme

Internet of Things (IoT) & Data Analytics

MITS, Gwalior

23-24 Oct, 2020

RGPV Bhopal under TEQIP-III

16.

Ms. Aruna Bajpai

Short Term Training Programme

AI Enabled Augmented Analytics for Business Intelligence

CMR, Bangalore

12-17 Oct, 2020

AICTE

17.

Mr. Deshdeepak

Shrivastava

Faculty Development Programme

Data Analysis & Visualization Using Pandas, Seaborn & Plotly In Python

CSI, Gwalior

16-18 July, 2020

CSI, Gwalior

18.

Ms. Archana Tomar

Faculty Development Programme

Data Analysis & Visualization Using Pandas, Seaborn & Plotly In Python

CSI, Gwalior

16-18 July 2020

CSI, Gwalior

19.

Dr. Pradeep Yadav

Faculty Development Programme

Data Analytics using Python

NITTTR, Chandigarh

18-22 May, 2020

AICTE-ATAL

20.

Mr. Manuj Mishra

Faculty Development Programme

Data Analytics using Python

NITTTR, Chandigarh

18-22 May, 2020

AICTE-ATAL

21.

Dr. Pradeep Yadav

Faculty Development Programme

Block Chain

MSME-Technology Development Centre (PPDC)

27-31 May, 2020

AICTE-ATAL

22.

Mr. Manuj Mishra

Faculty Development Programme

Block Chain

MSME-Technology Development Centre (PPDC)

27-31 May, 2020

AICTE-ATAL

23.

Dr. Pradeep Yadav

Faculty Development Programme

Internet of Things

NITTTR, Chandigarh

10-14 April, 2020

AICTE-ATAL

24.

Mr. Manuj Mishra

Faculty Development Programme

Internet of Things

NITTTR, Chandigarh

10-14 April, 2020

AICTE-ATAL

25.

Dr. Pradeep Yadav

NPTEL (12 Weeks )

Data Analytics with Python

IIT, Roorkee

Jan–April, 2020

SWAYAM

26.

Dr. Pradeep Yadav

NPTEL (4 Weeks)

Software testing

IIT, Kharagpur

Jan-April, 2020

IIT, Kharagpur

27.

Dr. Pradeep Yadav

Introduction to Big Data

UC San Diego, Coursera

06 Feb, 2020

Coursera

28.

Ms. Reena Chauhan

Faculty Development Programme

ML and AI by Using Python

RGPV, Bhopal

17-21 Dec, 2019

RGPV Bhopal under TEQIP-III

29.

Mr. Shirish Mohan Dubey

Faculty Development Programme

Machine Learning and Ai with Python

RGPV, Bhopal

17-21 Dec, 2019

RGPV Bhopal under TEQIP-III

30.

Ms. Anushree Chausalkar

Faculty Development Programme

ML and AI by Using Python

RGPV, Bhopal

17-21 Dec, 2019

RGPV Bhopal under TEQIP-III

31.

Ms. Aruna Bajpai

Faculty Development Programme

ML and AI by Using Python

RGPV, Bhopal

17-21 Dec, 2019

RGPV Bhopal under TEQIP-III

32.

Mr. Gaurav Dubey

Faculty Development Programme

Product to be Smart with Artificial Intelligence

RGPV, Bhopal

19-23 Nov, 2019

RGPV Bhopal under TEQIP-III

33.

Mr. Gaurav Dubey

NPTEL (12 Weeks)

Computer Networks

SWAYAM

Aug-Oct, 2019

SWAYAM

34.

Mr. Manuj Mishra

NPTEL (8 Weeks)

TOC

IIT, Kanpur

July-Sep, 2019

IIT, KANPUR

35.

Mr. Gaurav Dubey

Faculty Development Programme

InfyTQ based foundation program

Infosys

12-19 July, 2019

Infosys

36.

Mr. Chandra Prakash Bhargava

Faculty Development Programme

Data Analytics with Python

Electronics & ICT Academy, IIT, Roorkee

18-22 June, 2019

IIT, Roorkee

37.

Dr. Jitendra Singh Kushwah

Faculty Development Programme

Data Analytics with Python

Electronics & ICT Academy, IIT, Roorkee

18-22 June, 2019

IIT, Roorkee

38.

Mr. Deshdeepak Shrivastava

Faculty Development Programme

Data Analytics with Python

Electronics & ICT Academy, IIT, Roorkee

18-22 June, 2019

IIT, Roorkee

39.

Mr. Nitin Dixit

Faculty Development Programme

Applications of Embedded Systems to IOT Using ML

ITM University Gwalior (M.P.)

24-29 June, 2019

ITM University, Gwalior

40.

Ms. Anushree Chausalkar

Faculty Development Programme

Applications of Embedded Systems to IOT Using ML

ITM University Gwalior (M.P.)

24-29 June, 2019

ITM University, Gwalior

41.

Ms. Anushree Chausalkar

Faculty Development Programme

Cloud computing

NPTEL

Feb-Apr, 2019

SWAYAM

42.

Ms. Archana Tomar

Faculty Development Programme

DBMS

NPTEL

Feb–Apr, 2019

SWAYAM

43.

Ms. Priusha Narwaria

Faculty Development Programme

Python

ITM, Gwalior

26-29 Dec, 2018

ITM, Gwalior

44.

Dr. Pradeep Yadav

Summer Teaching Programme

Developments and Challenges in Software Development Practices and Technologies
Needed for Digital India Programme

IIT, Roorkee

28 May-01 June 2018

IIT, Roorkee

45.

Mr. Deshdeepak Shrivastava

Faculty Development Programme

A practical approach towards Data science and artificial intelligence

SOIT, RGPV Bhopal

29 Ma-02 June 2018

RGPV Bhopal under TEQIP-III

46.

Dr. Pradeep Yadav

NPTEL

Cloud Computing

IIT, Kharagpur

Jan-April, 2018

SWAYAM

47.

Mr. Kuldeep Singh Jadon

Faculty Development Programme

Emerging Technologies For Smart Cities

Vikrant Institute Of Technology & Management, Gwalior

27-31 Mar, 2018

RGPV Bhopal under TEQIP-III

48.

Mr. Manuj Mishra

Faculty Development Programme

Emerging Technologies For Smart Cities

Vikrant Institute Of Technology & Management, Gwalior

27-31 Mar, 2018

RGPV Bhopal under TEQIP-III

49.

Ms. Priusha Narwaria

Faculty Development Programme

Emerging Technologies For Smart Cities

Vikrant Institute Of Technology & Management, Gwalior

27-31 Mar, 2018

RGPV Bhopal under TEQIP-III

50.

Mr. Kuldeep Singh Jadon

Faculty Development Programme

Modeling, Simulation and Implementation Using MATLAB

THDC Institute of Hydropower Engineering and Technology

31 Jan-04 Feb 2018

RGPV Bhopal under TEQIP-III

51.

Mr. Deshdeepak Shrivastava

Refresher course

Cyber security and Forensics

Academic staff College, Bhopal

25 July-29 July 2017

RGPV Bhopal under TEQIP-III

52.

Dr. Pradeep Yadav

NPTEL (8 Weeks)

Operating system

IIT, Madras

July-Sept, 2017

SWAYAM

53.

Dr. Pradeep Yadav

Workshop

LaTeX and MATLAB : Indispensable Tools for Research

Jagannath University, Jaipur

06-10 Feb, 2017

Jagannath University, Jaipur
Indivar Technologies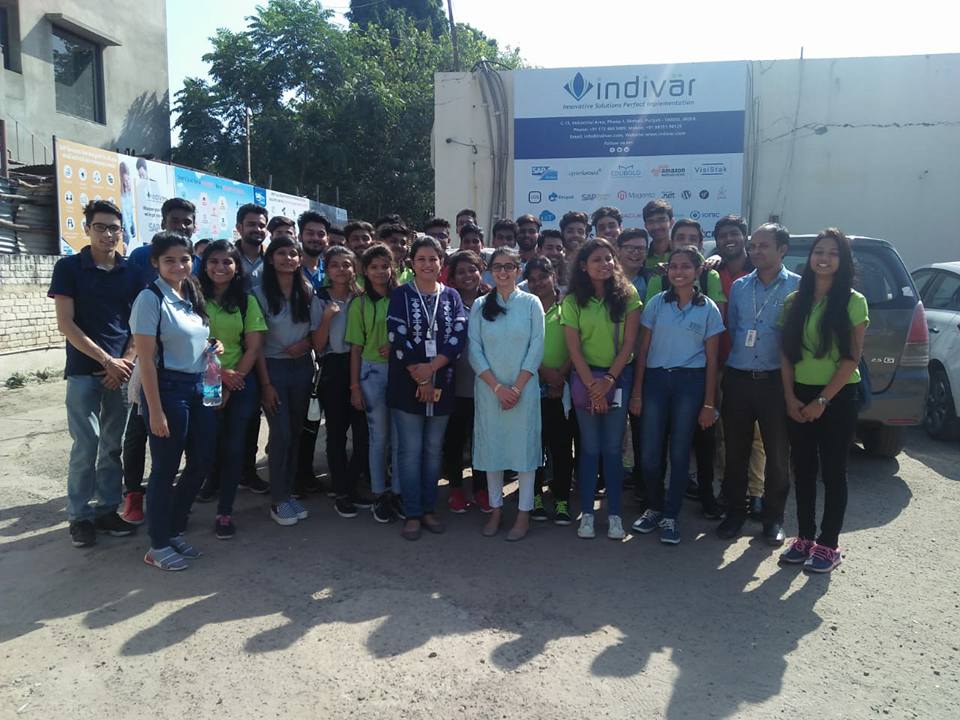 Solitaire Infosys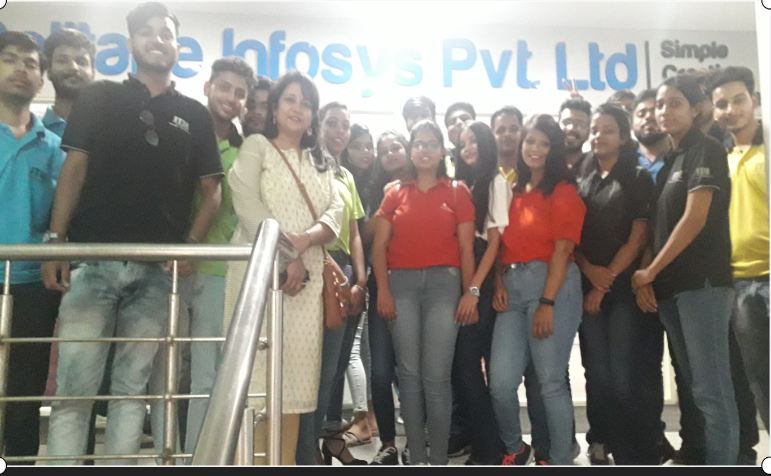 Think Next