Art
ITM has a very unique & distinctive character of its campus and perceived by all as hub of creative expressions in special areas of paintings, sculptures, various classical & folk dance forms, Indian classical & popular music, western classical & rock music, world cinema, photography & theater. Students get to expose themselves with the best of Indian & International Artists, see their process of creation, interact & not only admire the final outcome but take special care for its upkeep & maintenance.
Painters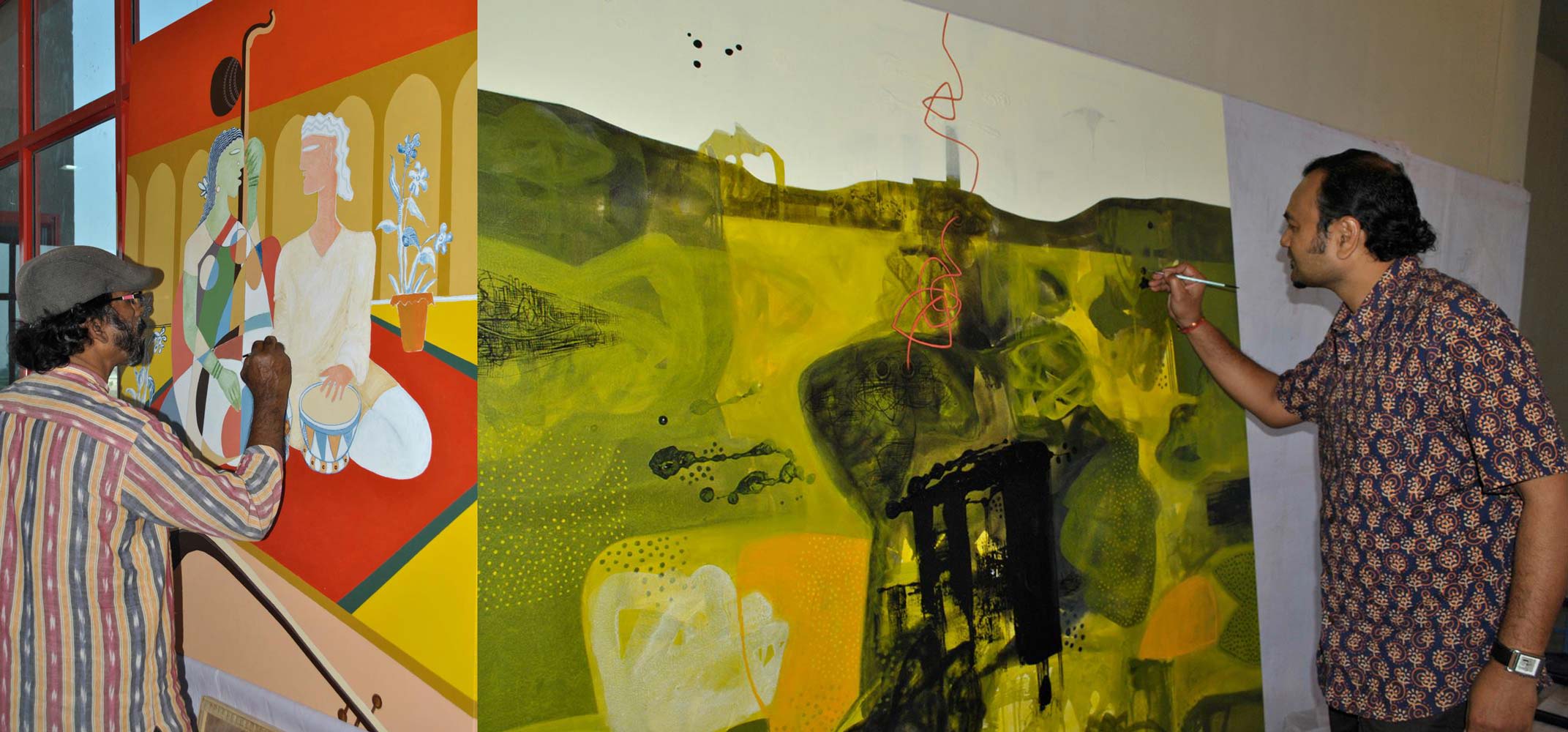 Surya Prakash, Hyderabad, Vibha Galhotra, New Delhi, Haku Shah, Ahmedabad, Jeram Patel, Vadodara, Hindol Brahmbhatt, Vadodara, Deepak Shinde, Mumbai, Shuvaprasanna, Kolkata, Tapan Das, New Delhi, Devangi Sidharth, New Delhi, Yuriko Lochan, New Delhi, Yogendra Tripathi, Bhilai, S. Pranam Singh, Varanasi, Vinay Sharma, Jaipur, Shail Choyal, Udaipur, Subruto Kundu, New Delhi, Mustak Khan Chowdhury, Gwalior, Atul Bhalla, New Delhi, Tapas Konar, West Bengal, Nand Katyal, New Delhi, Nikita Parikh, Vadodara, Bhanwar Singh Pawar, Vadodara, Gopi Gajwani, New Delhi, Shipra Bhattacharya, Kolkata, Sidharth, New Delhi, Prem Singh, New Delhi, Rajeev Lochan, New Delhi, Anwar, New Delhi, Manav Gupta, New Delhi, Suneet Ghildial, Jaipur, Mohan Malviya, Indore, Manoj Kachangal, Ujjain, Preeti Verma, New Delhi, Pratul Dash, Orissa, Shridhar Iyer, Gopal Samantray, Orissa, Umesh Gupta, Anup Chand, Dharmendra Singh Rathore, New Delhi, Manish Pushkale, New Delhi, Naredra Pal Singh,new Delhi.
Sculptors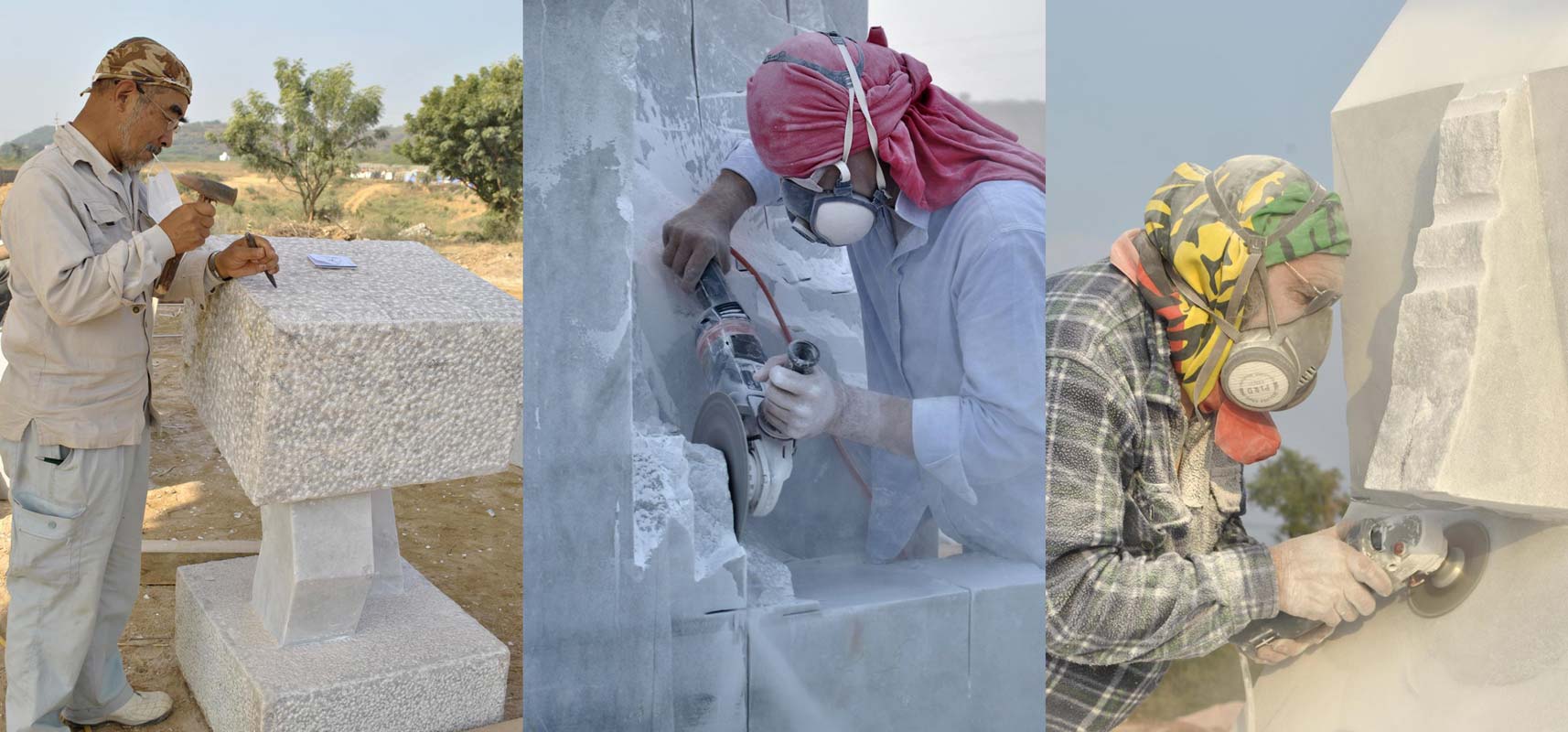 Barbara Ash, England, Becky Guttin, U.S.A., Hidehiko Kawamura, Japan, Heike Schaefer, Germany, Ito Maho, Japan, Yusuke Toda, Japan, Iwata Sayuri, Japan, Maria Grazia Collini, Italy, Nagatsuka Keiko, Japan, Nicola Cozzio, Italy, Ohshima Yukiko, Japan, Peerapong Doungkaew, Thailand, Saravudth Duangjumpa, Thailand, Janak Jhankar Narzari, Shantiniketan, Jayanti Nayak, Ahmedabad, Mahendra Pandya, Baroda, Bhupesh Kavadia, Udaipur, Binod Singh, Varanasi, Chandra Parkash, Srinagar, Mayyur Gupta, Baroda, Pramod Kumar Sharma, Bhopal, Prithpal Singh Ladi, Shillong, Rajesh K. Sharma, New Delhi, Rajiv Nayan, Lucknow, Rajshekhran Nayar, Chennai, Robin David, Bhopal, Sham Sunder, Hyderabad, Shreeniwas Reddy, Venkat, Visakhapatnam. Yamamoto Akira, Japan, Kenji Toda, Japan, Oshima Mieko, Japan, Adelaido Miguel Hernandez Urban, Mexico, David Alejandro Martinez Bucio, Mexico, Adwaita Gadnayak, New Delhi, Vinod Patel, Baroda, V.K. Rajan, Trishoor, Kerala, M.K. Wanjari, Vasai West, Dist. Thane, Chandrasen Jadhav, Gwalior. Jun Yamazoe, Japan, Genia Boris Gendelman, Israel, Bilal Hassan, Syria, Sylviane Courgeau, France, Nagji Patel, Baroda, Rajendar Tiku, Jammu, Rakesh Bhatnagar, Rajgarh, Dinesh Prajapati, Gwalior, Shriram, Gwalior, Andries Johannes Botha, South Africa, Georgiy Tryakin, Kazakstan, Seung Jung, Korea, Roslisham Bin Ismail, Malasiya, M.J. Enas, Delhi, Pushpmala N., Bangalore, Sharmila Samant, Mumbai, Shovan Kumar, Orissa, Shiv Verma, Bastar, Chinmoy, Baroda, Tushar Joag, Mumbai, Sandeep N. Pisalkar, Baroda, Kaushik Mukhopadhyay, Mumbai and Vibha Galhotra from Delhi.