Department of Electronics and Communication Engineering
About Department
Electronics & Communication engineering today is a multidisciplinary field that blends ingredients from electrical engineering, computer science engineering, information technology, and others. The Communication field now serves broader industries where the telephony, cellular, computer, data warehouse and entertainment industries have converged. It affects society in many aspects, including health, business, defense, security, space, banking, and social life.
Thus, as never before, a situation has arisen where a strong scientific manpower with technical background is needed to meet the growing challenges in the field of electronics for its research, development and applications. To achieve this, our energies are directed towards blending a sound understanding of fundamental science, engineering and technological aspects of electronics. The under graduate course of Electronics & Communication was started in 1997. The department has always been on a high growth path which reflected through M.Tech. in Embedded system & VLSI design in 2007. The department was accredited by National Board of Accreditation in 2009. The department has received grants from govt. agencies for up-gradation and modernization of laboratories.
No. seats

B.E- 90
M.Tech VLSI- 18
Our Vision
The Electronics and Communication Engineering department envisions to prepare world-class technocrats and entrepreneurs with fresh ideas and innovations to meet the demands of industrial development and social commitment.
Our Mission
Prepare students to solve real world problems through research and develop their entrepreneurship skills.
To provide high quality education with effective teaching pedagogy.

Program Educational Objectives
Our graduates will excel in professional career and/or higher education or in entrepreneurship.
Our graduates will have Knowledge, skills, attitude and teamwork capacity.
Our graduates will be globally competent and empowered.
Program Specific Outcomes
The ability to understand the principles in VLSI, Signal Processing, Communication, Embedded System & Control Engineering.
To design, implement and test projects using the simulating software and hardware tools.
To demonstrate the leadership qualities and strive for the betterment of organization, environment and society.
HOD's Desk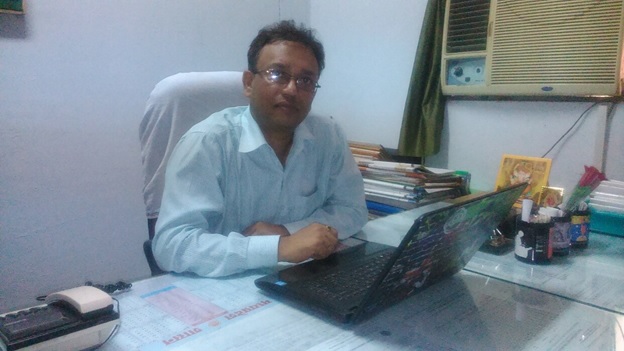 Today's era is of Communication & Information Technology. With the advent of the advance technologies in this field the whole world is becoming very easily accessible. This branch is having wide scope in the public sector, Private sector as well as in Government sector. The professionals of this field will find a very good future prospectus since so many multinational companies are indented in the field of Communication i.e. BSNL, MTNL, AIRTEL, IDEA etc.
Students are placed in good renowned group of India and abroad i.e. BSNL, ISRO, NTPC, BHEL, Idea, Airtel, Infosys, Wipro, Accenture, Cogzinent, etc. The alumni of the department have secured their places in the higher echelons of the society and technical world. A good number of students are going for higher studies for their M.Tech, MS, MBA and PhD. from different reputed institutes in India and abroad.
This branch has tremendous applications such as Telephony, Telegraphy, Radio & TV broadcasting, Mobile Communication (2G/3G/4G), Video Conferencing, Internet, e-mail, e-commerce, Industrial Automation, Military etc. As such there is no limit to its applications and scope as well. Every day you will find a new addition in the application of this field.
It is a versatile branch, in the sense that the students holding the degree in the Electronics and Communication can build up their carrier in any field such as Computer Engineering, Information Technology and Communication etc. Our objective is to build up students who will be equally competent in all these fields. Keeping this in mind, we are working to develop well-equipped advanced computer based laboratories, to give the students full exposure to computer, Internet Technology, and the advancements in this field.
The department has a variety of laborites according to the requirement of industry. Department has also a designing, developing and analyzing tool's and software i.e. Multisim, Mentor Graphics, PCB Designing, Netsim, Matlab, Labview, Comsim etc.
The department encompasses a fine blend of renowned as well as young and dynamic faculties with a balanced mix from industry and academics. Most of the faculties have excellent track records and is drawn from leading institutes like IITs/NITs and other reputed universities. The faculty takes active interest in research and development activities. The infrastructure and lab facilities are upgraded from time to time and provide a good practical learning and innovative environment for UG students and PG researchers.
Infrastructure
The Electronics and Communication Branch, is enriched with well - developed laboratories, having variety of equipment useful for novice to understand concepts to high end equipment for different applications. The equipment and software tools are as per the industry requirements and standards. The department has following lab facilities in different areas and is listed as below:


Communication Lab
Electronics Devices & Circuit Lab
Network Lab
Microprocessor & Microcontroller Lab
Digital Electronics Lab
Software Lab
Microwave & Antenna Engineering Lab
Optical Fiber Communication Lab
Digital Signal Processing Lab
VLSI Lab
Computer Networking Lab
PCB Design Lab
PLC Lab
Measurement & Instrumentation Lab
Makers Lab
Exclusive R&D and Major Project Lab
There are exclusive labs for carrying out research and development. These labs have important software like Tinapro, MATLAB, EDA software, Multisim, PCB wizard and Xilinx. For design of Integrated circuits, a new backend tool HEP1 from Mentor Graphics is available. One can design own IC and directly give it to foundry for manufacturing. Department has an exclusive Printed Circuit Board (PCB) Laboratory. This Lab manufacturer various types industries standard Printed Circuit Boards. These PCB's are used in student's projects and outsourced projects.
Scope and Placements
Graduates & Post graduates in Electronics & Communication Engineering have opportunities in govt. & private companies for installation, operation and maintenance of electronic equipments and systems. Defense, space and other large research organizations employ electronics engineers in design and development of complex devices and systems for signal processing and telecommunication. Industries involved in design and fabrication of devices, integrated circuits, embedded systems, electronic equipments etc. also provide large scale placements for engineers with this specialization.
Students of Electronics and Communication have participated in CANSAT Competition organized by the American Astronautically Society (AAS), American Institute of Aeronautics and Astronautics(AIAA), and NASA an annual open world level competition. Mission was to simulate a sensor payload travelling through planetary atmosphere sampling of atmospheric composition during flight. The team of ITM-GOI named INDYAAN has participated in this competition project.
Knowledge of computer hardware, networking equipments and communication systems enables electronics engineering graduate to annex an edge in the IT job market. The skills and understanding developed in the course enable them to be preferred, as software professionals in IT companies. The students of ITM have been placed in companies like Capgemini, L&T, Bosch, Siemens, TCS, Infosys, Hexaware, Accenture, Wipro, Cognizant, Amdocs, IGate, Sadex, Bitwise, Government Agencies like Defence, Navy, DRDO, ISRO, Prasar Bhartis. Public Sector Companies like BHEL, NTPC, BEL, BSNL
Learning Process and Methodology
The methodology adopted to ensure proper learning includes Lectures, Tutorials and Practical's in groups of 30 each. Classroom is equipped with LCD projector.


Evaluation Process
Internal assessment is based on Midterm/Online test/ Activity Midterm/Online test/ Activity PBL Activities Attendance Discipline, Attitude & behavior of students
Extra classes for weak / hostel students are being arranged
Two weeks practical training during summer break
It is mandatory to undergo two weeks practical training by the students of VI semesters after the end of examination. After completion of practical training, they have to submit a practical training report and to deliver a presentation of their training report.
Development and Grooming of Students
Department and Training Placement Department also arrange expert lecturers and workshop on:

Personality Development
Technical Training
Moral / Ethics
Etiquettes & Manners
Mock Interviews
Communication Skills
Leadership
Confidence Building
Invited lectures from industries(hr personnel) are also being arranged to develop the students on present scenario / trends for placement
Mentorship Program
A faculty member is assigned 20-30 students. his/her role is
to guide the students for academic excellence
to guide the students for personality development
to guide the students for positive attitude, good behavior and discipline
to guide the students for proper dress, etiquettes and manners
to motivate the students to participate in sports and cultural activities
to refrain them not to indulge in ragging and other social evils
Methods of Measuring Learning Outcomes
If several different sources of data are used, it increases the probability that the findings present an accurate picture. We employ the following formal assessment procedures:
End-Of-Semester Course Evaluations
Departmental Mid-Semester Course Evaluations
Alumni Feedback
Employer Surveys
Department Academic Council Meetings
Faculty Meetings
Project Work
Job Placements
Professional Societies
Industrial Trainings
Professional Certifications
HR Summit
Research Publications
Industry Interaction
Expert from industries and renowned academic institute of India are invited to get an insightful overview of the current trends & innovation in the industry. Constant interaction with industry is being maintained through industrial visits arranged for the students. Industrial visits conducted during session 2018-19: 1. Industrial Visit of Electronics (V semester) students in Bharat Sanchar Nigam Limited, Gwalior on 09/10/18. Students are learn about switching process of mobile phone and fixed telephone network.
2. Industrial visit of Electrical (VIII Semester and diploma) and Electronics (IV Semester) students in Priyanka Industries, Banmore, Morena on 01/03/19. Priyanka Industry is high rating Transformer manufacturing Industry. Student learns manufacturing process of transformer during this visit.
Department has arranged the visit to industries time to time for students. Following are the industries we have visited for students to make aware of industrial atmosphere.

Doordarshan
Rail Spring Plant, Gwalior
Surya Roshni, Malanpur
SRF, Malanpur and many more……..
Recently, Department has organized an industrial tour to Advance Technology, Chandigarh, Micro Tuner Groups, Hydro Power Plant, Manali. Advance Technology, Chandigarh is an ISO 9001:2008 Certified Company deals in the field of Hardware Development, Embedded Products Development, Security & Surveillance and Engineers Training Programs.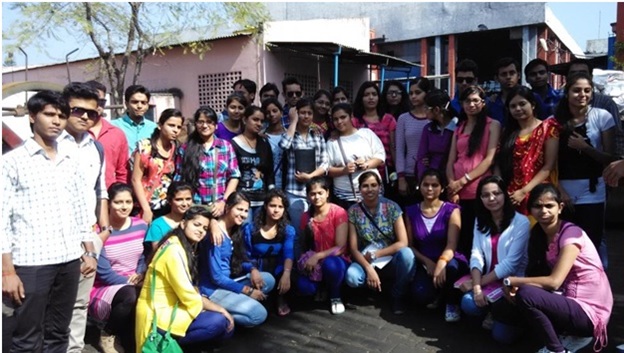 Events / Seminars / Expert Talk / Workshops
National Seminar on Recent Innovation in Signal Processing and Embedded Systems (RISE – 2018), April 19-21, 2018

Swatch Bharat summer internship in the month of November-2018.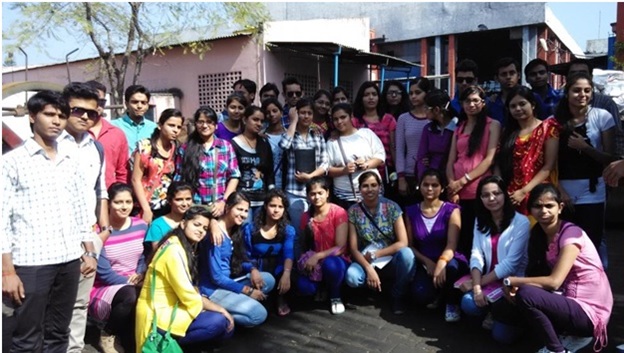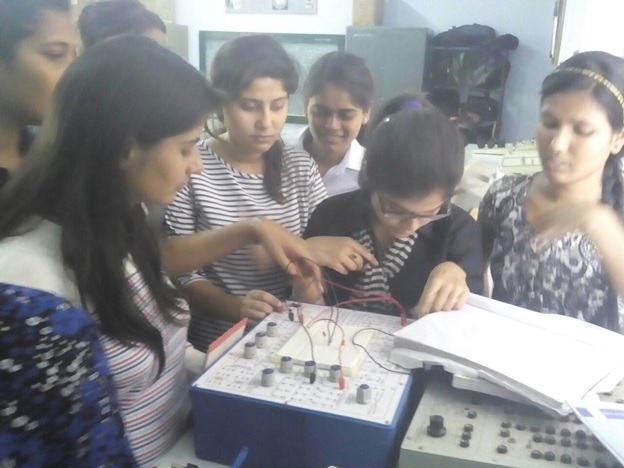 Students Achievements
With the persistent hard work of one year, six students of the Makers-lab of the EC dept. of ITM-GOI have developed a Humanoid Robot "Adhvik 1.0". This robot is capable to identify the person through face recognition and also welcome the guest by handshaking gesture with pronouncing the identified person's name.

Students of the department have secured Vice Chancellor Award.

Sajal Agrawal (2006-2010) student of the department has got Vice Chancellor Award by the R.G.P.V., Bhopal.
Harshali Rewadikar (2009-2013) student of the department has got Vice Chancellor Award by the R.G.P.V., Bhopal.
Abhinay Gupta (2009-2013) student of the department has secured 153 Rank in GATE -2013.
Ayushi Jain 2012-2016 batch student of the department has got Vice Chancellor Award by the R.G.P.V., Bhopal
Priyanka Shrivastava 2015- 2019 batch student of the department has got Vice Chancellor Award by the R.G.P.V., Bhopal